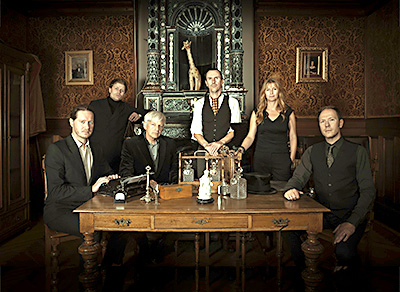 It was in Beijing, China, during West of Eden's 2017 anniversary tour, that the first songs for "Flat Earth Society" were written and plans were drawn up. Why not pack the instruments and travel around Scotland and England to make our next album together with some of the best folk and trad musicians from the British Isles?
And so it was that West of Eden went on a week long road trip last summer, recording new music in places ranging from whisky distilleries to churches, joined by John McCusker Heidi Talbot, Damien O'Kane, Duncan Chisholm and Jarlath Henderson.
When we were sitting there in our tour bus, we often felt like members of a strange, private society, a bit out of step with the times. Ignoring new discoveries and disregarding what's hot and what's not, we keep on stubbornly writing our songs and dragging around our acoustic guitars, accordions and fiddles. We're almost like a "Flat Earth Society"!
17 tracks were recorded, of which 12 ended up on what is West of Eden's 9th studio album. A collection of songs beginning with the title track's litany over love lost, to continue into the folk rocky 'The Dwindling Of The Day' about holding on to the memory of someone who is no longer present.
But, of course, all is not despair. 'Horsehoofs & Primroses' brings promise of new beginnings, and in the first single 'Old Miss Partridge' it is easy to mistakenly believe that Jenny and Heidi Talbot accidentally stumbled across a classic British folk tune.
The record ends with the instrumental 'Rowbotham's Map' where Lars' fiddle meets the Knopfler influenced guitar of newest member Henning, fusing Swedish and Scottish folk music. Everything recorded live in The Old laundry, overlooking Lake Glenfinnan. After that, we packed our gear and went back home, suitcases filled with memories, meetings and the songs that were to become "Flat Earth Society".