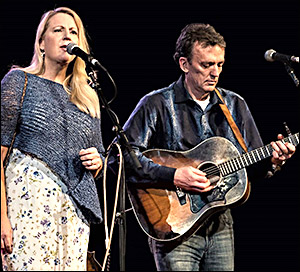 Americana and bluegrass duo True North, Kristen Grainger and Dan Wetzel, blazes new territory in contemporary bluegrass simply by traveling a bit further than others might dare to go. The silky smooth delivery of Grainger's vocals beguiles the ear, as Wetzel skillfully weaves instrumental tapestries around her poetic and visual lyrics. Grainger's songwriting makes artistry of real life, creating memorable songs that alternately warm and wrench the human heart. The duo's interpersonal chemistry sparks and smokes onstage, like distant lightning from a summer storm, and the emotional wallop of their conjoined voices grabs the heart and pulls it out to sea.
Kristen Grainger, vocals, is an accomplished singer songwriter with the soul of a storyteller. Her songs pack a powerful emotional punsch, "Be Here Now" was named the 2015 I.M.E.A. Folk Song Of The Year, and she took 2nd place in the 2016 MerleFest Songwriting Competition, performing live in the finals in North Carolina. She was one of 10 finalists in the 2014 Telluride Troubadour songwriting contest, performing solo in front of the festival's 10 000 member audience. Her song "Birds Like Me" was chosen for the soundtrack of independent film "The Danish Boy", slated for a 2018 release.
Dan Wetzel, guitar, mandolin, mountain banjo, resonator guitar, octave mandolin, ukulele and vocals, has earned considerable recognition as a singer songwriter and toured nationally as a solo artist after winning a national songwriting contest. An accomplished luthier, his superb instrumental skills, particularly guitar, both flat pick and finger style, give True North's songs their driving groove.
Kristen Grainger and Dan Wetzel's co-written "Mountain Boy" was featured on the European World Bluegrass Festival's composite CD. The duo also was chosen from more than 800 entries to perform "Limbo" and "Doris Dean" in the finals at the Kerrville New Folk songwriting contest. The duo's song "Hard Place To Suffer (And That Really Gets Me Down)" won the Wintergrass song contest.