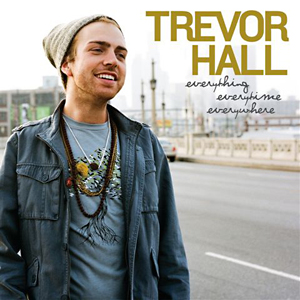 Vanguard Records is excited to announce the release of Trevor Hall's new album "Everything Everytime Everywhere" available August 23rd, 2011.
Produced by Jimmy Messer, the eleven tracks on "Everything Everytime Everywhere" showcase Hall's rare ability to write universal songs infused with underlying themes of devotion and community in the vein of two of his heroes, Ben Harper and Bob Marley. From the upbeat, anthemic "Brand New Day", straight through to the momentous closing track, "The Mountain," Hall's signature blend of catchy pop/rock songs with stylish shades of reggae has made this diverse 24-year-old one of the most lauded up-and-coming artists on the American music scene.
Created with a host of incredible musicians, including longtime guitarist for Matisyahu, Aaron Dugan, bass player Brian Lang and drummer Aaron Sterling, "Everything Everytime Everywhere" also features guest vocals from Jamaican songstress Cherine Anderson.
"Everything Everytime Everywhere" is the follow up to his 2009 label debut, "Trevor Hall", which featured the single "Unity", a song written and performed with long time friend, Matisyahu. The self-titled release debuted at #7 on the Billboard Heatseekers chart and Hall was cited by MTV's 'Subway Fresh Buzz' Series as "one of the 20 emerging artists for 2010."
His captivating live performances and growing popularity have led to sold out shows across the country. Hall has also toured with the legendary Jimmy Cliff, Michael Franti, Matisyahu and Colbie Caillat, to name a few.