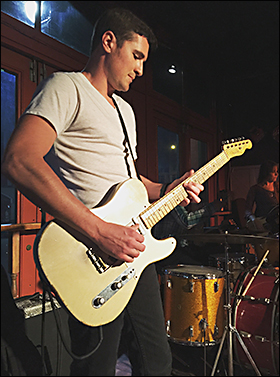 Travis Green is a conductor, a musician, a singer songwriter who takes you back to the days when music was a familiar feeling you tapped your feet to and tuned your heart to like a clock. With his highly anticipated release, "A Little Too Late", Travis reveals a little bit of his soul and shares stories of family and love lost within a blanket of country and rock and roll. Almost gone are the days of the conductor, a true band leader who directs his band with pure feeling, derived from the relentless study of music. The result is a treat for crowds as he leads those sharing the stage with a undeniable charisma and a smooth voice not to be forgotten. Travis Green was born and raised in Austin, TX. At the young age of 27 he has obtained a wealth of musical knowledge that pours out to his audiences through each performance.
The development of his unique style is the result of a lifetime of musical influences. Travis was always surrounded by different forms of music, from Chuck Berry, which he took his love for different melodies and vocal delivery, to Led Zeppelin and Muddy Waters. Travis holds country music very near to his heart and feels most comfortable stretching the boundaries while mixing his favorite genres. He also credits the unique opportunities he's had to play with local artists and musicians abroad. Last summer, Travis spent 6 weeks touring Scandinavia, playing nightly shows to large crowds, directing musicians he'd never met before, never skipping a beat. It was a great success and Travis will be returning to Scandinavia after the release of "A Little Too Late".
There is no denying that Travis Green belongs on a stage sharing his songs. "A Little Too Late" solidifies his hard work and commitment to his craft and is just a small sample of things to come from this great artist. His dedication to his ever growing abilities, his confidence while directing the musicians around him to create that perfect sound within a perfect groove, all the while captivating audiences is what truly makes Travis Geen among the last of a dying breed.
The album was recorded at Greaseland Studio and produced by Norway born, Kid Andersen, who is well known for his award winning blues guitar. Together they created a raw sound capturing the emotion of tracks like, 'Please Don't Cry' and 'Keep You Off My Mind'. The brutal truth sang in the chorus of 'Everybody Knows' shows the fearless attempt to paint an imperfect picture through lyrics. Travis is currently working with US promoter, Mark Pucci in support of his latest release "A Little Too Late".