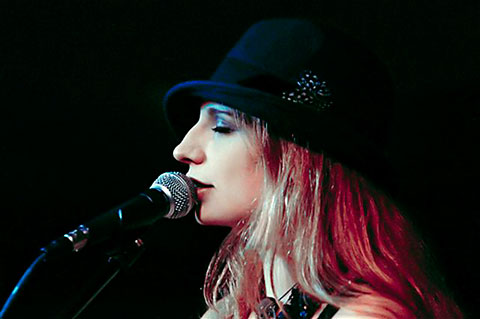 Tori Sparks is based in Barcelona, Spain, having recently relocated from Nashville, but she spends most of her time on the road all over the world. Tori at the age of 27, has already released four critically-acclaimed albums under the auspices of her own record label (Glass Mountain Records). She walks the line between soulful and hilarious in her electrifying live performances, singing in English, French and Spanish. Sparks is known as the hardest working woman in the music business, booking and playing well over 200 concerts each year.
Tori Sparks' upcoming fourth release, 'Until Morning/Come Out Of The Dark', marks her third musical collaboration with producer David Henry (R.E.M., Josh Rouse, Cowboy Junkies, Widespread Panic), and her first with Roger Moutenot (Yo La Tengo, Elvis Costello, Velvet Underground, Gypsy Kings, Paula Cole, Rosanne Cash). The recordings feature a cast of world-class musicians, as well as special guest vocalists Shawn Mullins, Mike Farris, Paris DeLane and indie folk favorite David Mead.
'Until Morning/Come Out Of The Dark' is not a traditional album, but a study in dichotomy. Sparks chose to release the 13 new songs as two conjoined mini-albums, or a double EP. The first disc, 'Until Morning', reflects the dark, sensual, even diabolical side of Tori's vocal and songwriting skill. The second disc, 'Come Out Of The Dark', is tumbleweed Americana meets fragile folk, or Tori's ability to show us the dawn that follows the darkness – in a word, the hope that love can bring. This record also marks the first Spanish-language song that Tori has recorded, a classic Cuban tune from the 1940s called "Quizás, Quizás, Quizás". The album art is a design by noted New York visual artist Joe Petruccio, best known for his work with the Elvis Presley Estate and Graceland in Memphis.
As always, Tori's lyrics are the golden thread that runs through this artistically ambitious project. In the heart-stopping ballad "Until Morning", her voice soars on the line, "I love you the way the tide loves the sand, just like the gun loves the trigger-happy hand". Never one to shy away from heavy topics, Tori's irreverent side is also present, in lines such as "I could have been your compass, if you'd learn to read a map", and in referencing biological facts about sharks in the song "Judge a Book". Sparks casually comments in "On My Mind" that she and a lover were made for each other in the same way that a pair of mafia-style "cement shoes" are custom-made for their victim. The tone of both halves of this project is distinctly personal in a way that surpasses even the intimacy of Tori's previous three records. We as listeners get the sense that she is letting us in on a very private conversation, especially on the minor epic "Come Out Of The Dark".
Sparks' previous three albums climbed the Americana and College charts in the US and overseas, have been licensed by MTV, Lifetime, Oxygen, Life Beyond Breast Cancer, and featured on the compilation Country Vol. 2 released by Universal Music France (over 40,000 copies sold).
Tori will be touring non-stop throughout 2011 and 2012 in support of 'Until Morning/Come Out Of The Dark'.