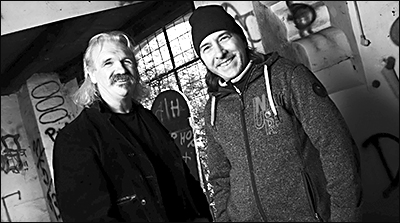 On reading through the biographies of these 2 musicians, comes the feeling that in the normal course of events Tony McLoughlin and Marlon Klein would not have been expected to cross paths. Singer and guitarist McLoughlin is native to the North of Ireland, he calls his background 'celtic' with the likelihood of some 'viking' blood in his ancestry. His name translates from the Gaelic as 'son of the deep water'. In the year 2000, his debut album "Cinérama" was released from the studio of US producer, Thomm Jutz, a native of the Black Forest as it happens. Jutz had worked also with Nanci Griffith, Mary Gauthier, David Olney and Jim Lauderdale, so McLoughlin's name became connected with the Nashville scene and his music categorized as 'americana'. Elements of rock, country, blues, folk and roots combine in this now well recognized music type called 'americana'.
Marlon Klein is a native of Herford in East Westphalia, an influential musician during the pinnacle era of German krautrock in the late 70's with the legendary Real Ax Band and then with Dissidenten from Berlin in Germany, achieving a pioneering role in the world music scene. Rolling Stone dubbed the trio, which played together with jazz saxophonist Charlie Mariano, the Indian Karnataka College Of Percussion, and the Moroccan superstar Lem Chaheb, as the 'godfathers of worldbeat'. Albums such as "Germanisten" and "Sahara Elektrik" are unsurpassed classics. The long list of musicians with whom Marlon Klein has worked, as sideman or as studio producer, include Stephan Eicher, Trilok Gurtu, Jasper van't Hof's Pili-Pili, Angélique Kidjo and Gary Wright, on whose album George Harrison played.
"We met through a common acquaintance", explains Mcloughlin. This led to an unplanned session together in a Nuremberg club. "Tony invited me on stage and I laid down the groove on some of his songs with Darbuka and Cajon. There was an immediate intuitive connection which we both enjoyed and this hinted towards an interesting new way of interpreting the songs in a rocky percussive direction", remembers Klein. So these 2 full blooded musicians stayed in contact after this first encounter, sharing basic ideas, from continent to island, eventually developing little by little a sound which one can honestly call 'tribal rock'. "It was very interesting to explore other rhythmic ideas and to move out of my comfort zone", recalls McLoughlin about these first steps. Out of this mutual 'tribal energy' the songs developed very organically into the finished 'studio production'.
"I have always been eager to work with gifted singer songwriters and with Tony's special voice and authentic lyrics, I immediately recognized the possibility of combining my love of native American pow-wow music with his celtic roots, to create a new direction", explains Klein. He spent 6 months in the Six Nations Reservation in Canada, and there he met the folk icon Buffy Sainte–Marie, a native Cree Indian. "Buffy finds our sound very cool", smiles the drummer. The tribal rock of the album "Where Is Jack" contains, alongside the celtic and indian feel, on further listening, many other inspirations and directions. There is a real 'flower power feeling' and the true sense of a 'gathering' in the music, like at a wonderful festival.
Even if McLoughlin conjures up the spirits of Rory Gallagher, Johnny Cash and Buffalo Springfield as watermarks, the album "Where Is Jack", the debut from McLoughlin & Klein, is no nostalgic retro project. Even when young hipsters and music freaks worship the 'man in black', and those other former heroes, the production and the grooves are ultramodern. The sound contains many new elements like using super low frequency hand drums for a kick, and, for a snare, mostly a Moroccan bendir, a frame drum with rasping strings. "That is like a modern busking drumset", enthuses the drummer.
Klein and McLoughlin searched for soulmates to play on the recordings where necessary. Enter Coimín, Tony's son, with his bass style incorporating the whole spectrum of modern rock sounds. Let others play the old school bass riffs. Then came Roman Bunka, a German guitarist extraordinaire and a master of the Arabian lute. Bunka currently tours with Adel Tawil, Dissidenten, and the Egyptian superstar Mohammed Mounir. He fitted perfectly into the songs. "A musician", Stereo-Magazine states, "who effortlessly draws people and culture together". Finally Ben Reel, a fellow north of Ireland quality singer songwriter and touring colleague of Tony's, came in on harmony vocals. So one is reminded of a White Stripes feel on a Tarantino soundtrack, but there are also some numbers with a subtly threatening sound like those which are often used on 'True Detectives'.
Even the label, which is releasing the McLoughlin & Klein album, is cult. Fuego is indelibly linked to names like The Multicoloured Shades, 1 Futurologisher Congress, Joe Mubare, Grobschnitt, M Walking On The Water and Bosse.
One last question remains. Who the fuck is Jack? We asked each musician separately. Still they unanimously answered, "we will answer that with the release of our next album".