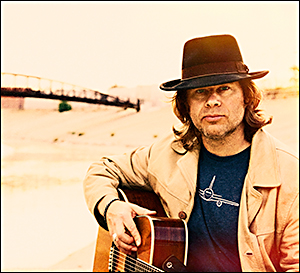 Over the course of his career, Tom Freund has created a wide variety of albums. His 1st was a collaboration with Ben Harper and his last was a double disc live album. In between, he's made full-lengths, EP's, a children's CD and a Christmas album, but he's never made an album like "Two Moons".
This self-produced disc finds the Los Angeles-based Freund in a contemplative yet confident mood, where swirls of nostalgia blend with sharp-eyed views of life today. He delivers this CD's main message in the standout track "Lemme Be Who I Wanna Be", in which he declares: "I'm basically hooked on this life/it's got a lot of problems/but it treats me real right/and you don't have to agree with me/but let me fly my freak flag". This oddly upbeat anthem of personal empowerment so impressed Canadian rock star Serena Ryder that she asked to sing on it. "Lemme Be Who I Wanna Be" represents a different type of song for Freund. "I'd rather just be honest and say 'take me as a I am'", he reveals, adding, "I felt that I didn't have to dress up songs with clever couplets all the time".
This more emotionally raw and vulnerable songwriting surfaces throughout the album. The opening track "Angel Eyes", which serves as Freund's take on Randy Newman's "I Love LA" motif, expresses his appreciation to his Southern California friends for always having his back. Freund proudly notes that "Sugar Pie", the sweet-sounding album closer, "doesn't have one sarcastic line in the whole song". Played simply and sung sincerely, it's his most heartfelt love song, even though it concerns a relationship that has come to an end.
The idea of persevering through life's hard times is a reoccurring theme in "Two Moons". While "Heavy Balloon" holds the fear of impending doom, Freund still cherishes how "ordinary days are like miracles" and pledges not "to lay down my heart". The charmingly chilled-out anthem "Same Old Shit Different Day" offers snapshots of skater kids, bossy cops and Venice Boardwalk weirdness, extolling the virtues of everyday craziness.
Several tunes find the songwriter reflecting on his past. The wistful "Happy Days Lunch Box" name-drops the Fonz and the Cunninghams as Freund recalls his carefree youth, while generational conflicts flare up amidst memories of a long-ago summer in "Me and Bernice", a tune written some years back but now a perfect fit. "Mind of Your Own", Freund's own favorite track, also finds him looking back and considering the ending of eras. This was the last song the New York native wrote at his family's house before it was sold.
Nostalgia strikes a more playful note in "Grooves Out Of My Heart", which contrasts an innocent youth spent spinning records and "getting stoned on the stoops" with an adulthood where "Barbarella has gone away" and "I guess I have to make something of my life today". This funky rocker reveals some musical touchstones with its "me and Julio" shout-out to one of Freund's songwriting idols, Paul Simon, and a fadeout guitar riff nod to rock gods Led Zeppelin.
Freund, in producing and co-engineering this album, draws upon folk, rock, jazz and other roots sources for an urbane Americana sound. He blends in cool touches, woozy mariachi horns pop up in "Same Old Shit", mermaid-evoking backing vocals in "Next Time Around". He punctuates "Heavy Balloon" with a blast of electric guitar and guest Stan Behrens (of Canned Heat fame) lends an atmospheric harmonica solo to "Weekend Guy" (a co-write with singer-songwriter Brett Dennen, who contributes vocals too). Inspired by listening to a lot of old Squeeze music, Freund also mixed in some trippy keyboards and old-school synths to flesh out tracks like "Me and Bernice and "Lemme Be Who I Wanna Be".
The "Lemme Be" lyrical theme translated to the recording, as well. Freund brought a "this is the way we do it" approach to the sessions, which were done in studios across Los Angeles (from Echo Park to North Hollywood, to his own setup in Venice). The recording went exceptionally well. "I knew what guys to grab and how to get it done", he confides. "There weren't wasted takes or wasted hours". He used a core of group of musicians he knew (drummers Michael Jerome and Michael Iveson, keyboardist Chris Joyner and bassist John Button) and, he says, "every time we got together, something good happened". Some talented old friends lent Freund support too. David Immergluck (Counting Crows, John Hiatt) weaves his pedal steel through "Two Moons", while "Angel Eyes" features vocals from Ben Harper, who also produced Freund's 2008 CD "Collapsible Plans".
Freund himself plays guitars, ukulele, keyboards and bass. An in-demand bass player, Freund got his first big break in the 90's playing for the Austin-based roots-rock cult heroes the Silos. He settled in Venice, CA, around the time of his 1998 solo debut "North American Long Weekend". Over the years, he alternated between making his own music and working with folks like Mandy Moore, Rachael Yamagata and Graham Parker, who has hailed Freund as one of "the best singer-songwriters operating today". You can even spot Freund playing with Parker in the recent Judd Apatow film, "This Is 40".
Freund funded the album through a successful Pledge Music campaign. Although admitting to having some trepidations about going the crowd-sourcing route, Freund wound up a believer. "I'm very endeared by the Pledge experience", he confesses. "It showed me that people wanted to engage in it. That was moving for me and got me excited".
Fans' reactions resonate strongly with Freund. He feels that a job of a songwriter to help others access what they are feeling. "A real joy is when people come and tell me that a song or an album got them through something", he says. If "Two Moons", with its underlying message of hope in this messy world of ours, serves as an inspiring, encouraging soundtrack for listeners, "then I can say to myself, OK, you're doing something right for some people out there".