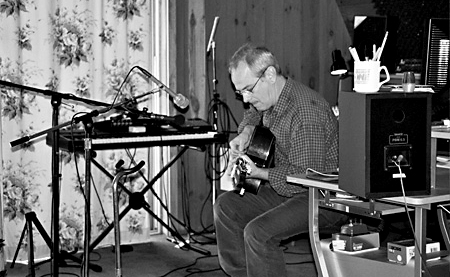 Rex Fowler and Tom Dean emerged as prominent folk-rock artists in the 70's. Rex's band, Aztec Two Step, burst upon the scene with their self-titled debut album on Elektra Records in 1972. This, and their three subsequent albums on RCA Records, were staples of college and progressive FM radio and helped usher the music of the 60's into the 70's and beyond.
Tom Dean and Alana MacDonald's band Devonsquare was signed by Ahmet Ertegun, the legendary chairman of Atlantic Records, after hearing Dean's "Walking On Ice" from their self-released album of the same name. Devonsquare went on to record another CD for Atlantic titled "Bye Bye Route 66", which spawned several critically acclaimed singles including "If You Could See Me Now", featuring Alana's powerful vocal performance.
Collectively they have toured worldwide, been reviewed in Rolling Stone, performed on David Letterman and shared stages with such musical luminaries as Bruce Springsteen, Bonnie Raitt and The Band, and continue to distinguish themselves as esteemed song-writers, performers and recording artists in the venerated genre of folk-rock music.
Along with several prominent studio musicians, Rex and Tom have teamed up in this labor of love to celebrate the genius and artistry of John Lennon. As a gift to John for his 70th birthday on October 9, 2010, they have re-imagined exquisite acoustic renditions of Lennon's legendary Beatles songs. Besides a smattering of tasteful percussion, Rex and Tom's distinctive acoustic guitar and vocal stylings and the beautiful voice of Alana MacDonald, featured instrumentation include cello, violin, mandolin, mandola, bass, slide guitar, accordion and chromatic harmonica.
Happy Birthday John!