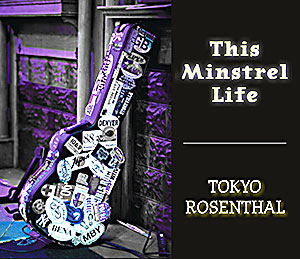 Rock & Sock Records just announced that they will be releasing "This Minstrel Life" from their recording artist, Tokyo Rosenthal in September 2017. This will be Rosenthal's 7th album on the Rock & Sock Records label.
The CD contains 6 original studio recordings and 4 live recordings from various locations, with an assortment of accompanists. This follows the theme of the new record which is about the lives of touring musicians, today and yesterday. The new recordings include the politically driven single, "Now I Believe There's A Devil", and an updated version of the previously released, "The Immigrant", now entitled "The Immigrant Revisited". In light of the present climate regarding immigration, Tokyo wanted to revisit this subject.
The new studio cuts touch on a variety of subjects including a family tragedy, a life gone wrong, co-written with Moira Saucer, politics, immigration policy, the music business, and ultra marathon running.
Toke is joined once again by a stellar crew of musicians including the dB's Chris Stamey, Allyn Love, Chatham County Line's John Teer, Charlie Chamberlain, and Juanito Laguna. Backing Tokyo on the live tracks are The Sap Boilers, Manguss, Charlie Chamberlain, Logan Matheny, and Kieran O'Malley. The live recordings took place in Pittsboro, North Carolina on The Tokyo Rosenthal Program, in Knoxville, Tennessee, on WDVX's Blue Plate Special, on SXSW in Austin, Texas, and in Keighley, UK.
"This is a very different album for me and I'm excited by this project", says Rosenthal. "I like being able to present what I sound like on tour with a group of different touring partners from over the years. As always, the studio experience was great and enhanced by the magnificent musicians who joined me in Chris Stamey's facility. Navigating the music business these days is very difficult and I feel we've come full circle from the original days of traveling minstrels. I see myself, and my colleagues, mirroring the way things were back in the 1800's. In other words, we go from gig to gig, often getting room and board, selling our wares, and of course performing our original tunes. Today we travel by car, back then by horse. I believe the new songs are complimented by the live tracks as they expand on the 'minstrel' theme".
Rosenthal intends to begin touring in the fall, in and around his Chapel Hill home area, and the southeast US. Then early next year he will begin visiting the midwest, the northeast, the UK, Ireland, and other territories.