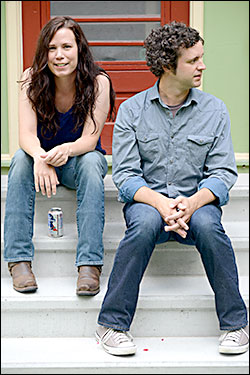 The sophomore release from Kalamazoo band Thunderbolt & Lightfoot maintains the earthy, close harmony vocal approach of their self titled EP, while expanding their sound to include strings, keyboard, electric guitar, accordion and mellotron, along with a healthy amount of experimentation in the studio. Tracked at La Luna Recording And Sound, "Songs For Mixed Company" is an adventurous collection of weepers, cautionary tales and songs of fancy. Perfect for parties.
Consisting of Sarah Fuerst and Phil Barry, Thunderbolt & Lightfoot have been featured on folk music sites, opened for artists such as Robbie Fulks, Dar Williams, Henhouse Prowlers and May Erlewine, and have played some of Michigan's finest venues and festivals. Plus they can kick your butt at Euchre.
Phil was a founding member of award winning rock band Knee Deep Shag, former touring guitarist for RCA recording artist Rachael Yamagata, and currently a member of americana supergroup Corn Fed Girls. Phil's solo album "Between The Carolinas" was released via Princess Records and has been featured on MTV, VH1, Oxygen and Showtime.
Sarah played electric bass for the indie rock band Doxie. Doxie released an acclaimed self titled full length with Grass Records and they toured the midwest and east coast. Sarah is also a long standing member of Corn Fed Girls, supplying upright bass and vocal harmony.