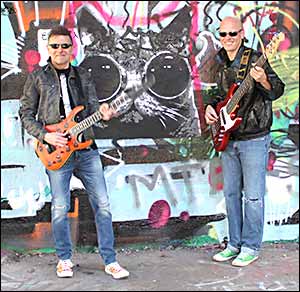 The Refusers' incendiary new album, fueled by the insanity of the Trump era, social injustice, congressional corruption and the gap between the haves and have nots, is an epic call to refuse to accept the messed up way things are, fight back and yes, "Disobey".
The Refusers drive their manifesto with some kick ass rock and roll that commands our attention. The band of top flight musicians includes Michael Belkin, guitars, songs, lead vocals, keyboardists Eric Robert, who has performed with Keb' Mo', Joe Doria, who contributes a powerhouse b3 organ solo on "Eruption", drummer Brendan Hill from Blues Traveler and bassist, vocalist Steve Newton.
Belkin's lyrics are tight, on point, blistering and incisive rages against the machine that controls us. On the incendiary opening track "Playing With Fire", he points out the oxymorons that define the US, "freedom is slavery, ignorance is strength, war is peace, big brother's calling, nation of sheep, playing with fire". The soulful rock and funk jam, "Eruption", lays out what's hopefully coming, "gonna be an eruption, too much corruption, headed for disruption". Then on the scorching blues and rock title track, he gives an order which he seriously hopes protesters of all stripes will be singing and chanting as they continue to beg for wrongs to be righted and those who dominate to go down, "Disobey! What'd I say? Disobey! Don't fade away! Disobey! How dare they? They've got you caged! Take off the chains!".
Belkin and The Refusers rail against Big Pharma's opioid massacres in "Why Do They Lie?", the fact that we're "Government Slaves", economic inequities between the fat cats and the poor falling further behind in "Free The Captives", and of course, our pathetic addiction to the "Fake News" corporately run media organizations feed us. There is respite and hope, however in "Emancipation" and especially the rollicking "My Baby Loves Rock And Roll", which playfully knocks rap while asserting the enduring power of rock and roll.
Belkin, the band's founder, songwriter, producer, lead singer and guitarist, muses, "An album called 'Disobey' by a group called The Refusers, you can't get any more defiant than that, and that is exactly what rock and roll is supposed to be. We embody that classic spirit of defiance that defines rock in any era!".
The Refusers have performed at The Bottle Rock Festival in Napa opening for the Black Keys and Kings Of Leon and at Seattle venues such as The Crocodile and Seattle Center.