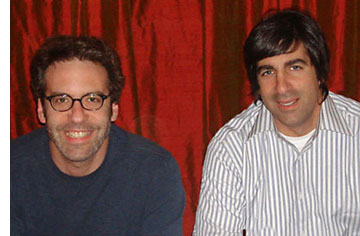 "If The Red Button had been around when I was producing, I would have signed them to EMI." -- Norman "Hurricane" Smith, Beatles engineer (1962-66) and record producer at EMI (Pink Floyd, Pretty Things, etc)
The Red Button is made up of Los Angeles-based singer-songwriters Seth Swirsky and Mike Ruekberg.
Seth has written songs for dozens of artists over the years ranging from Taylor Dayne ( the # 1 hits "Tell it to My Heart" and "Prove Your Love") to Al Green ("Love Is A Beautiful Thing"), Rufus Wainwright, Jane Weidlin (of The Go-Gos), Tina Turner, and many others. His solo album, "Instant Pleasure" (with background vocals by Andy Sturmer of Jellyfish and The Rembrandts) was named Best Pop Album at the 2005 L.A. Music Awards. He loves the sun on his face, looking through kaleidoscopes and eating sushi. Mike was the writer and singer for Rex Daisy, who recorded a highly-acclaimed CD with Geffen Records, produced by Paul Fox (XTC). A much sought-after session singer and musician, Mike also wrote the soundtrack to the Adrien Brody, Indie cult film Dummy. He has a pet pig, Peggy.
When they met in 2005, Seth and Mike discovered a shared love of melodic pop songs. So, they started writing together and 11 songs later, She's About To Cross My Mind was born. Almost immediately praise from the pop critics poured in. David Bash, founder of the International Pop Overthrow Music Festival said in the rock magazine, Bucketful of Brains, "It's all here: merseybeat, bubblegum, folk-pop, and psychedelia - The joint venture of Swirsky and Ruekberg may be the most successful pairing since peanut butter met chocolate!" Goldmine Magazine's John Borack called The Red Button's songs "pop music the way God and Paul McCartney must have intended!"