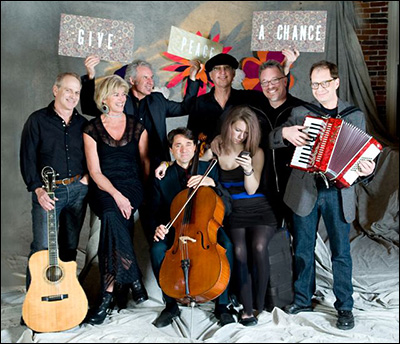 Following the success of the 2010 release "Imagined - The John Lennon Song Project", winner of the Independent Music Awards Vox Populi For Best Tribute CD in 2010, Tom Dean and Rex Fowler of The Nutopians have offered up another serving of classic John Lennon material that once again brings a whole new way of appreciating the melodic and lyrical beauty of these songs.
These two singer-songwriters who have had their own career successes on major labels have gone back into the studio with their 7 piece touring band The Nutopians to once again remind us of the genius and artistry of John Lennon. The Nutopians touring band formed to do 10 live performances to promote the release of "Imagined" in 2010. The success of the live show was undeniable and three years on the Nutopians are still touring in the US and have brought this stellar band into the studio for the recording of "Lennon Re-Imagined".
Because of the insistence of the Lennon Estate to remove The John Lennon Song Project as the band's name used on their first release, they turned to Yoko Ono who suggested they call themselves The Nutopians referencing Nutopia, the conceptual country created by John & Yoko
on April Fool's Day 1973.