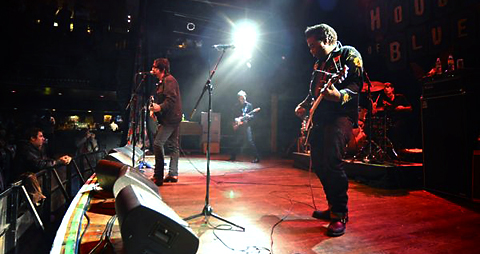 The Neighborhood Bullys stormed the Los Angeles club scene in 2006. Unleashing infectious melodies played with fevered skill and smartly irreverent lyrics sung with epidemic energy, the quartet quickly conquered unsuspecting audiences and critics. It's obvious that the Bullys are the embodiment of authentic rock and roll, right in line with predecessors including Rolling Stones, Ramones, and New York Dolls. But they sweeten the pot with the new-wave bounce of The Knack, the glam-rock crunch of Slade, the proto-power-pop of Raspberries, the party-metal of Kiss, and the lean, mean R&B/pub-rock blast of Dr Feelgood.
Encountering the Bullys' talent and enthusiasm, Mike Chapman - legendary producer of Sweet, Suzie Quatro and Blondie - was inspired to capture it in the studio. The result is the band's potent, rollicking debut album: the provocatively-titled "What?" – to be released in early 2010 on Rankoutsider Records.
The lynchpin of the Bullys is Davey Meshell - a Brooklyn-spawned, LA-raised singer, bass player and songwriter who has played with such esteemed musicians as Shelby Lynne, Peter Case, Etta James, Bobby Womack, John Lee Hooker, Chambers Brothers, Buddy Guy, and Buddy Miles. Meshell belies his goateed regular-guy look with the passion and moan of a vintage soul shouter. Although he was the central focus of the band from the start, other members came and went until the line-up solidified with guitarists Tex Mosley and Michael Hayes, and drummer Joey Galvan.
Mosley, originally from Philadelphia, got his start in New York City as a member of the punk-rock outfit Pure Hell, sharing bills and rehearsal space with The New York Dolls. Hays, born in Mississippi and reborn in L.A., is a guitar prodigy whose stinging licks mark him as a phenomenon-in-the-making. Drummer Joey Galvan joined the Bullys after a notable stint in the ensemble The Bastard Sons of Johnny Cash.
Getting star producer Mike Chapman to oversee your first album is quite a feat, but it happened for the Bullys in a very straightforward fashion. According to Meshell, the notorious Los Angeles music-business maven Kim Fowley wanted to manage the Bullys. Although that relationship was never consummated, Fowley gave Meshell some good advice.
"Kim said that the best way to get to work with your favorite producer was to send a letter and a demo of your best stuff," recalled Meshell. "Nobody can top Mike Chapman in my book, so we sent him a demo of our song 'I'm Bored, Let's Fight,' and he actually responded. He told me that he listened to it twelve times in a row. Then, he said he'd produce our whole record."
It turned out to be an ideal marriage of artists and producer. "We had already club-tested the material in L.A. for months," Meshell said. "Mike showed up, flying in from his home in Connecticut, and we recorded all of the basic tracks in three days. He mixed it and mastered it in his home studio, and now the album's gonna get out there on Rankoutsider."
"What?" ranges from the insanely catchy "Spin It," to the sexy pulse of "Lead With Your Lips," the hammerhead slam-bam of "Let Me Be Me," and the rafter-rattling near-gospel fervor of "Alive." And you can dance to it!
On top of their explosive sound, the Bullys' songs are blessed with lyrics that are cynical, brutally honest, pointed and peppered with witty rhymes. As Meshell put it, "We don't preach, or tell anyone what to do. We're just writing about how we all live, day to day."
With an upcoming tour of the West Coast and Southwestern United States and a second album in progress tentatively titled "Lost and Jealous", The Neighborhood Bullys are poised to break out beyond regional renown. "We spend a lot of time around each other," Meshell said. "Sometimes we love each other - sometimes we want to kill one another. It can be like a battle every minute in the studio and every night on stage. But we're all there because we believe in what we're doing. What can I say? Whether it's melodious and harmonious or bare-bones and straight from the garage, we all love loud rock 'n' roll."
Needless to say, watch out for The Neighborhood Bullys!