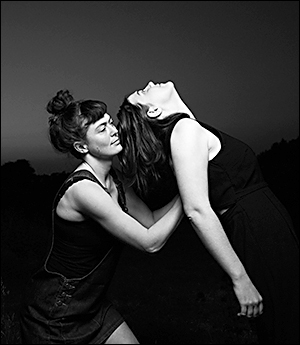 Award winning Melbourne, Australia's The Maes, formerly The Mae Trio, are sisters Maggie, banjo, guitar and vocals, and Elsie Rigby, fiddle, mandolin and vocals.
The Maes are currently working on their 3rd album, which is set for release in May. What started as a plan to make a 4 track EP mid tour last year at Lake Echo studio in Nova Scotia, Canada, with producer Daniel Ledwell, turned into recording a brand new album in studios across Canada, Ireland, Scotland and back home in Melbourne, working with Ledwell in Canada, Gordon Maclean on the Isle of Mull, Scotland, Liam King on Inish Bofin, John Fitzgerald in West Cork, Ireland and finally finishing up back home in Melbourne with Brendon Love of The Teskey Brothers.

Over the last 3 years the pair have toured extensively, bringing their unique contemporary twist on folk music to audiences in Australia, North America, the UK and Ireland, most recently performing at the legendary Telluride Festival in Colorado. Other stand-out shows include performances at the Hydro Stadium at Celtic Connection, Glasgow, Americana Folk Festival, Nashville, Cambridge Folk Festival, UK, Edmonton Folk Festival, Vancouver Folk Music Festival, Canada and Woodford, Port Fairy and National Folk Festivals, Australia.

Their sophomore album, "Take Care Take Cover" was awarded Best Folk Roots Album 2017 by The Age Music Victoria Award and has received rave reviews at home and abroad with The Australian calling it a "simply superb sophomore album". They have also performed sessions for Rolling Stone and Sirius XM Village Folk. "Take Care Take Cover" was recorded in Nashville, Tennessee with producer and engineer Erick Jaskowiak (Crooked Still, Tim O'Brien, Darrell Scott, The Waifs). The album features guest performances by The Stray Bird's Maya De'Vitry, Darrell Scott, The Time Jumper's Jeff Taylor, Victor Krauss, Jano Rix, and Kai Welch. The album follows on from their debut, "Housewarming", which earned them the Folk Alliance Australia Youth Award and NFSA Folk Recording of the Year.

The Maes new album is set for release May 3rd, 2019.