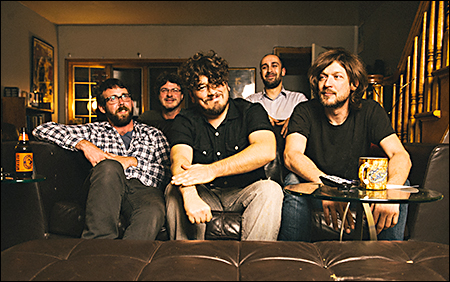 Led by uber-talented singer-songwriter Rob Carey, The Headlocks nail down the soul of rock 'n' roll in a way that we haven't seen in too damn long. Once described as 'the quintessential barroom band', these Staten Island natives are long-time favorites in New York City's rock and blues clubs, as well as on college campuses and festival stages.
"Most Golden Goose", the band's newly released sophomore album, is a finely crafted collection of lyrically rich and rhythmically rousing songs, best enjoyed while on the move, whether driving cross country, flying on a plane, sitting on the subway-bus-train, or swaying in the soft glow of a dimly lit bar scene.
The Headlocks' musical alchemy transports the listener to spaces and places beyond the hustle and bustle of everyday existence, on a roots rock 'n' roll-inspired journey through the hungers of the heart, melees of the mind, and ever evolving seasons of the soul.
Expanding on the rhythms and grooves of the band's critically acclaimed first album, "Cuckoo Bird", and organically formed through countless sessions of jamming and recording with Frank Cavallo on drums, Dan Gallagher on atmospheric slide and electric guitar, Nick Purpura on gritty rock guitar, and Joe Broncato on bass, "Most Golden Goose" is a timeless triumph of a 2nd studio record for The Headlocks.