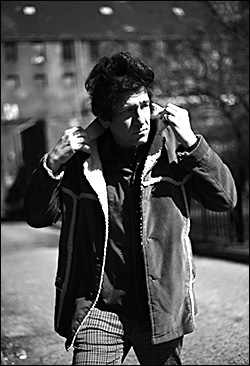 Seth Goodman, who records as The Grand Undoing, has two extreme passions in life, drinking sparkling wine and creating psychedelic post rock Americana confronting alienation and mortality. This strange mix, the bubbly and brooding, has become the stock-in-trade of TGU's growing catalog.
An only child, Goodman leaned hard on his record player while coming of age just outside Boston. The area's free form college radio and vibrant club scene also had a profound effect. The final piece fell into place later in life when Goodman developed a deep affinity for classic country and roots music. All these influences would swirl and collide with his deeply entrenched outsider's sensibility to form The Grand Undoing's distinctive sound.
First came 2011's "Appeasing The Sick", then 2014's "White Space Flavors & Parties On TV". Both made bold musical statements that landed in the vicinity of 'David Bowie on acid backed by the Swans' (Indie News At Noon.) With his latest release, "Sparks Rain Down From The Lights Of Love", on Secret Candy Rock Records, Goodman manages to push his musical boundaries even further. He romps from style to style, but never abandons his love of the almighty hook and cohesion, albeit the cohesion of constant upheaval.
When reflecting on the heady topics presented in the new material, Goodman explains that the end result is meant to uplift and inspire. He hopes The Grand Undoing's music will provide a cinematic escape, make great driving music, or be the perfect accompaniment to a bottle of sparkling wine.