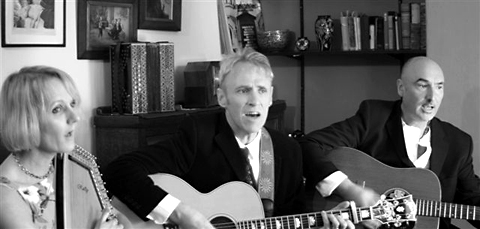 Liverpool's premier Americana band, The Good Intentions are about to release their second album 'Someone Else's Time' on Boronda Records.
The band is primarily centred around R Peter Davies, song writer, guitarist, and lead vocal, supported by harmony vocals from Gabrielle Monk, who also plays autoharp and accordion. Their songs have an old time feel with great tunes, clear harmonies, thoughtful lyrics, and good instrumentation. Having worked together for around 3 years their work took off when they collaborated with Boronda Records and established session musicians in LA to produce their first album, 'Poor Boy' to critical acclaim.
'Someone Else's Time' was recorded in LA, Liverpool and Nashville, featuring additional musicians, Brantley Kearns, ( Dwight Yoakam) , David Jackson (with Emmylou Harris, John Denver), additional vocals from Erice Brace, and guitar, mandolin, and dobro from Rick Shea, who also produced the album. Rick Shea is, of course, well-known as a longtime member of Dave Alvin's 'Guilty Men'.
Sample tracks are available on their website.
If you want to hear the songs your ancestors were listening to as they travelled the lost highway, get the album now!