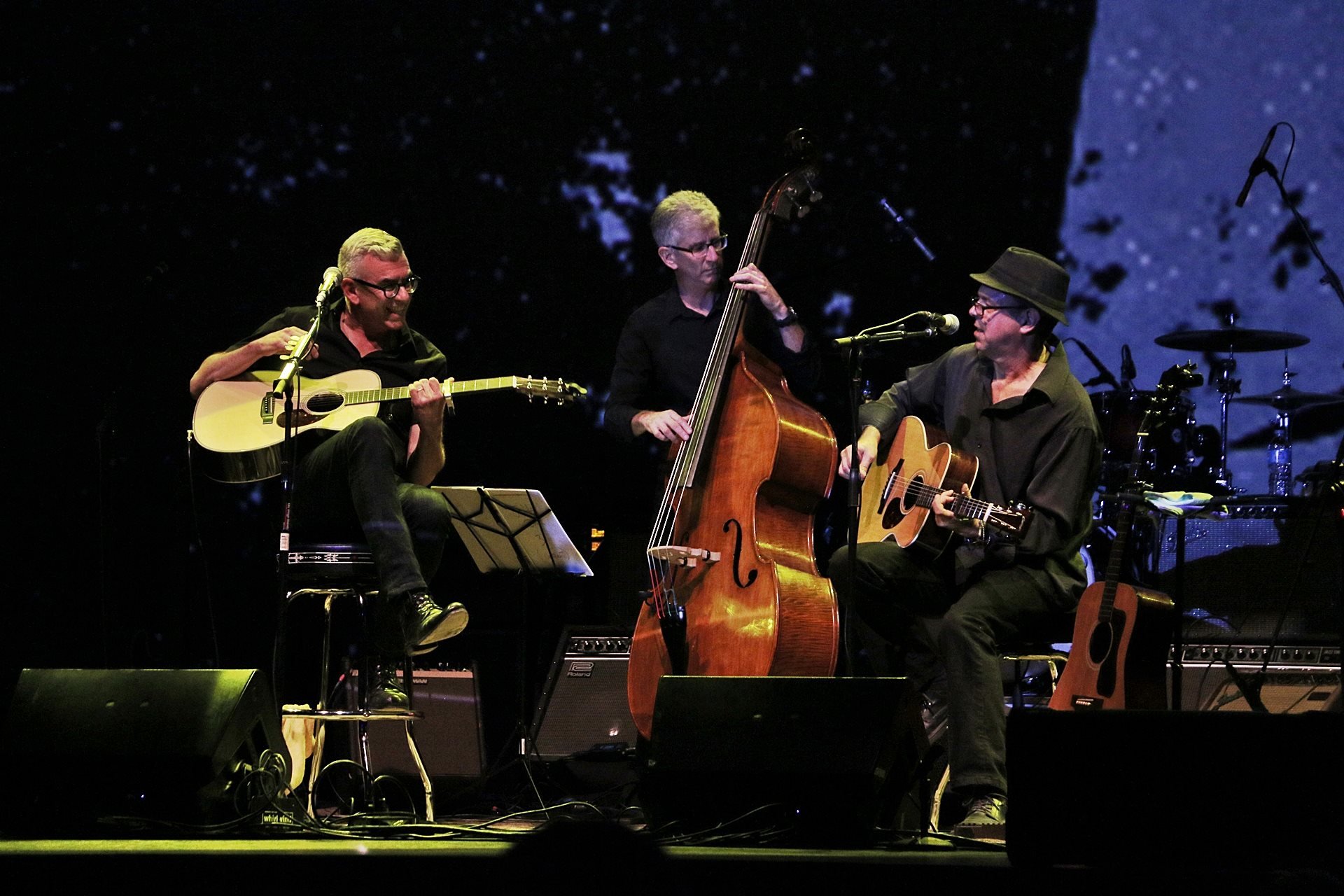 The Furious Seasons are an acoustic folk pop trio that creates complete soundscapes with very limited instrumentation. "The interplay between us sometimes feels a little like jazz in the way we approach it", David Steinhart explains. " We listen to each other carefully and try to honor the negative spaces". The trio consists of acclaimed songwriter, singer and guitarist, David Steinhart, upright bassist Jeff Steinhart (also David's brother), and guitarist, Paul Nelson. David Steinhart has distilled decades of songwriting on over 20 album releases, and with his brother has toured the US and Europe in the 90's and '00s in the bands, Smart Brown Handbag and Pop Art (both still have cult followings).
"La Fonda" is an album that is inspired by love and heartbreak. Building on the success of the 2018 album, "Now Residing Abroad", David Steinhart became consumed with a new song cycle that deals with the harsh reality of having lost a best friend to the ravages of drink. "It started out as a more general album with certain songs that dealt with him and others about other subjects", Steinhart reveals. "In time it was clear that it should be a more specific album, with the entire song cycle relating to that subject. Making that decision helped to broaden the scope of the songs. I was able to include songs that talk about when and how we met, and why the friendship was important".
By the time David had amassed new songs to the point that an album was inevitable, the band had serendipitously met up with producer and mixing engineer Alfonso Rodenas, whose expert and insightful approach to recording acoustic instruments made him the perfect match for this project. They recorded live as a 3 piece for the most part, sitting in a semicircle in front of microphones. "I sang and played guitar at the same time on all of the songs", Steinhart describs. "Jeff would overdub an occasional bass line and Paul added his vocals and some overdubbed parts afterward, but the core of the songs are live recordings".
"La Fonda" begins with "As A Matter Of Fact", a minor key groove in 4/4 that the trio does well, but not often. "The percussion part is me strumming a muted acoustic guitar, an old Nashville trick", Steinhart allows. "The song is a good starting place as it details someone who is letting the L.A. nights get the best of them".
"Slide Into Sadness" references Steinhart's guilt and imagined responsibility in his drinking buddy's demise from alcohol. "Now you're just chatter among friends, Wine and tall tales, You me, we were a classic war story, Ahab and his whale".
"Vast Divide" is the first of 2 songs about the friend's funeral. A nice little shuffle, the drums are played with brushes and Paul and David sing a clean tight harmony. "Your Irish Funeral" is the 2nd, with Rodenas playing percussion and using instruments from all over the world, including Ireland. "The song talks about his funeral in Indiana, where about 10% of the people in attendance knew him", noted Steinhart. "At the memorial in Los Angeles, all of his friends were so angry that it became like a horrible therapy session. On this one, I'm just imagining all of us drunk and happy, playing songs that he loved and saying a proper goodbye".
The trio's last album, "Now Residing Abroad" covered a lot of styles within an acoustic framework. The trio did a fair amount of exploration in both the song structures and arrangements. One glowing review from No Depression announced, "you are about to find your new musical obsession" while Jack Rabid of The Big Takeover stated, "NPR should have made stars of these talented everymen eons ago".
"La Fonda" is the 7th album for The Furious Seasons and the 3rd as an acoustic trio. The subject matter is so specific that it sets it apart from any other album Steinhart has written. "This album feels a lot more traditional to me", he says. "The subject matter made me want to write more folky and roots sounding chord structures. Production wise, Alfonso brings a balance and confidence to the songs that contrasts with the more experimental approach to the last album. I appreciate that this is a matter of small degrees for a band like ours, but it still feels pretty significant to us".
Guitarist Paul Nelson's background as a working musician in Santa Barbara plying his trade in various facets of americana, afforded him the ability to illuminate David's songs with melodic and mercurial inventions that create a bespoke blend of blues, folk and country influences. Jeff Steinhart's upright bass provides the supple underpinning that pulls the songs together with a gravitas, that makes the vocals and guitars soar, also in the recording studio he adds subtle washes of organ and piano in just the right places. At the core of the material, David's modal approach to guitar keeps the songs grounded and at the same time creates with painterly strokes open ended, sometimes impressionistic, sonic landscapes on which the trio builds arrangements.
"My friend who passed, was also named David, and was such a big part of our life for my wife and I. His ex-wife is our best friend and his daughter is our goddaughter. Our circle of friends and family merged into a very central community in our lives with years of shared memories. To have Jeff and Paul embrace these songs that are of such a personal nature feels amazing. Playing music with The Furious Seasons and recording with Alfonso is a gift and I hope it came out in the recordings".
With vocal harmonies abounding, instruments soaring and clear eyed storytelling, you can hear the band's joy in making "La Fonda".