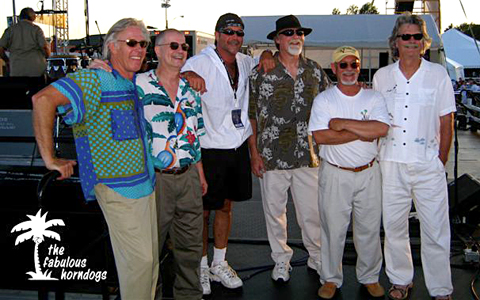 The Fabulous Horndogs are Michigan's premier dance and party band. We deliver a full menu of hot rhythm and blues with a New Orleans flavor. Particularly suited for festivals, weddings, and corporate events, we occasionally play select nightclubs. Listen to our CD and let us know if we can spice up your next musical event!
Tim Wire was born in 1949. He started piano lessons at age five with a teacher who was a student of Franz Liszt. Tim got hooked on boogie woogie music at 12 years of age and has played with many blues greats including Sam Lay and Pinetop Perkins. Tim toured Europe for two summers with Son Seals, and then played on Seals' "Lettin' Go" CD, which won the WC Handy award for best traditional blues album of 2001. Tim lives with his wife, Carol, and their dog, Abby, in Northport, Michigan.
Mike Marois started playing music in high school for dances and parties. In the late 1970's he joined Newt and the Salamanders which toured the Midwest in the 70's and 80's. He moved to California and worked for Guitar Center for a couple of years and then moved back to Traverse City to form the band Sneaker and spent several years raising a family. Mike is a founding member of the Fabulous Horndogs and plays a major role in keeping the band going today.
Jack Conners began playing bass guitar at age 16. He played with several bands in the Detroit area in the 1970's, studying rhythm and blues, funk, jazz, and rock styles. Jack worked through the 80's and 90's as a recording engineer and session musician in Baltimore and Nashville. He moved to Traverse City in 1999 and began working on his goal to join the Fabulous Horndogs, being accepted by the group in 2007.
Jim (Murph) Murphy was born in Gary, Indiana and transplanted north by age 15. In high school he found himself under the direction of band leader Bugs Bedow, the original trombone player from Newt and the Salamanders. After high school Murph toured the Midwest in many different bands, opening for Buddy Guy, G.E. Smith, and the Average White Band. Murph is one of the original members of the Fabulous Horndogs.
Hank Lawler, a native of Leelanau County, is celebrating his 51st year playing the trombone. After his college years in the Michigan State Bands, he blew his way through the USA, Canada, the Caribbean, and Mexico, playing in the horn sections of such notables as Donny Hathaway, Albert Collins, Jerry Lee Lewis, NRBQ, and a host of others. He came off the road and returned to Leelanau in the early nineties to raise his two children and team up with the Fabulous Horndogs.
Al Anderson started making music around the age of five. His grandfather heard him playing a tune on a toy plastic harmonica, bought him a Marine Band harp and spent hours playing duets with him. Woodwinds eventually replaced the harp and since the late sixties he has played with numerous working bands covering such diverse styles as blues, pop, jazz and rock, as well as occasional recording studio contributions. He brings his eclectic approach to the tenor and baritone saxophone to the Fabulous Horndogs.