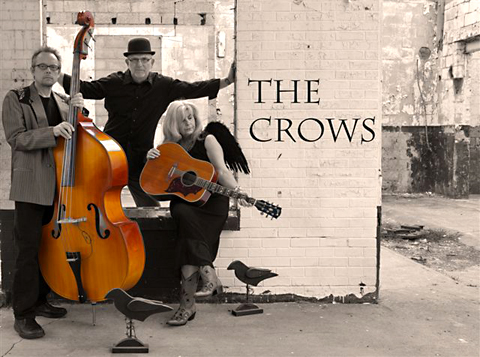 After a 20-year hiatus, Nashville-based string band, The Crows, are back together making music. The Crows are Sue Braswell, Jack Sundrud and Keith Miles, with assistance from a host of pickers from around the country. The band garnered a loyal following around Nashville and beyond in the late 80's and early 90's with their unique brand of tongue-in-cheek acoustic music.
The group has remastered and re-released their 1991 album, "One Flew Over The Cornfield", and are working on a new album with a Christmas, 2011 release planned. The 1991 album was recorded live in Burns, Tennessee.
"We gathered up some of our good friends, hung a few microphones around the room and hit the Record button", said Miles. "No overdubs, no sweetening. Just music straight out of the box. Then we apparently went on a 20-year vacation".
Not that the performance break meant all musical endeavors were shelved. Sundrud, who was part of the country group Great Plains in the early 90's, continued to work on his own music career, releasing two solo albums, co-writing hit songs and performing as a member of Poco.
The three penned the song, "Iola", which was recorded by Great Plains, as was "Homeland," which was written by Sundrud and Miles. Country legend Kenny Rogers also recorded "Homeland" on his album, "There You Go Again".
Miles released two solo albums, with Sundrud as producer and co-writer. His 2008 release, "Beyond The Headlights", made several best-of Americana lists in Europe. Miles also contributed to a compilation album – "I Like It Better Here – Music From Home," released by Hemifran in Sweden in 2010, and he and Sundrud offered another song for the anticipated 2011 release, "That Thing That's a Whole Lot Bigger Than This – Hymns From Home".
The Crows are currently booking shows to re-introduce their music to the world.