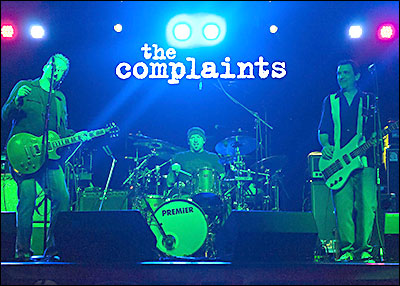 The Complaints are a modern rock band led by guitarist and front man Dean Petrella, with bassist Chris Cruz and drummer Anthony Marotti. Their music is like audio comfort food, it's new, but familiar. You may hear hints of Tom Petty, Radiohead, Coldplay and Matchbox 20, while still appreciating their unique sound.
The band formed in 1997 and quickly made their bones playing some of the hottest rock'n'roll venues on the east coast, including CBGB's, Mercury Lounge, The Bitter End, Lupo's Heartbreak Hotel and The Middle East.
The Complaints have recorded with some of the biggest engineers and producers in the business. Chris Lord-Alge [Matchbox 20, Coldplay, Amy Winehouse, Green Day, Bruce Springsteen, Madonna], Shelley Yakus [Tom Petty, Don Henley, U2, Suzanne Vega] and Phil Greene [Dropkick Murphys, Mighty Mighty Bosstones, Steve Earle, Mick Jagger].
2019 is lining up to be another great year for The Complaints as they release their 4th full length album, "Talk To Me". They reunited with Phil Greene who engineered and mixed their Award winning debut album "Fear" in 1999. The band is currently also writing material for various soundtracks and continue to perform over 150 live shows a year.
The Complaints have shared the stage with many national acts including Sugar Ray, Young The Giant, Train, Collective Soul, 3 Doors Down, Nickleback, Guster and have won numerous awards including 'Album Of The Year' for "Fear" in the Providence Phoenix Best Music Poll, 'Best Male Vocalist' and 'Band Of The Year' awards in New England's Motif Magazine.
The Complaints continue to be one of the most successful independent artists on the national scene.