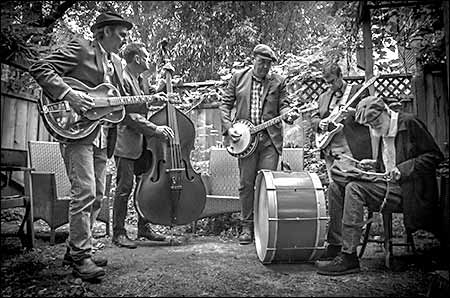 The Circus In Flames is pleased to announce the release of "Outside America", the band's latest CD on the Northern Electric label. With this recording, Vancouver singer songwriter Doug Andrew returns with his latest offerings and The Circus In Flames deliver their best album yet. Present again is the 'dark folklore' in the group's 'original, string band music of the Canadian south', a unique folk, country, blues sound driven by Andrew's songs but this time it also resonates with the influences of gospel and r'n'b, as well as the anthology of american folk music. On "Outside America" the songs and The Circus are now older, wiser and grittier.
In a career that began in Vancouver's independent music scene of the early 80's, Doug Andrew has shared bills with everyone from Ramones to Raffi to Ramblin' Jack Elliott. He is recognized as an accomplished singer songwriter respected by critics, peers and music fans alike. The Edmonton Journal has described his songs as having 'slightly twisted, always interesting storyline lyrics' delivered with 'an energetic thrust that falls just shy of reckless abandon'. See Magazine has said his songs 'should shuffle him off into the Canadian musical songwriting hierarchy' and the Vancouver Province declared 'Andrew is a great songwriter, while The Circus In Flames are his extraordinarily sympathetic band, a weird mix of musical eclecticism built on a dark folklore'.
Andrew first formed The Circus In Flames when asked to play at a friend's St Patrick's Day bash in the mid 90's and since then the band has toured, played several music festivals and released 2 previous critically acclaimed recordings. In 2007 the group joined such artists as Gordon Lightfoot, Blue Rodeo and former Byrd, Chris Hillman on Stony Plain's "The Gift : A Tribute To Ian Tyson". The Toronto Star chose their version of the classic "Someday Soon" as the album's top track.
On "Outside America", Doug Andrew once again called on long time band member Brian Barr to co-produce and play mandolin and electric guitar. Ed Goodine plays drums, and making his debut on banjitar is Brian Thalken. Upright bassist Bernie Addington, who played on the self titled Circus In Flames debut album, reunites with the band in the studio, while his brother Phil Addington grabbed his electric bass and became the latest musician to run away and join The Circus.
'Sheet metal country', Doug Andrew describes the music. 'It bangs and rattles and booms, generally making a fair amount of noise, but it can also be light and quiet. It can go from sounding like a runaway locomotive thundering down the mountain without any brakes to a wind slipping through the forest at midnight'.