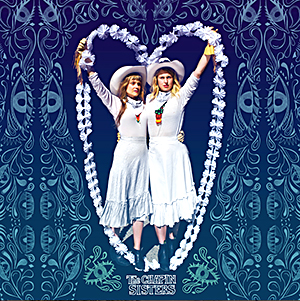 Recorded in the dreamy hills of Echo Park, California,"Today's Not Yesterday", is the Chapin Sisters' 1st album of original material in 5 years. Produced by the Chapin Sisters along with producer, engineer and bass player Dan Horne (Conor Oberst, Allah Las) and drummer Jesse Lee (Cass McCombs, Gang Gang Dance) the self-released "Today's Not Yesterday", which was recorded at Jonathan Wilson's Five Star studio, has a classic 70's rock feel that at times recalls a 'Rumours-era' Fleetwood Mac. The Chapin Sisters lush harmonies are backed here by Horne and Lee's first-rate rhythm section and standout performances by Luke Paquin (Hot Hot Heat) and Omar Velasco (A Fine Frenzy, Conor Oberst) on guitars, and Lee Pardini (Jonathan Wilson) and Bobby Rodriquez (the Tyde) on keyboards.
These 12 new songs, written mostly in New York, are as much about the sisters' past, and the 8 years they spent living in Los Angeles, as they are about their present lives on the East Coast. They explore break-ups, leaving California, accepting change, reinventing oneself and returning home to the things that matter most.
Perhaps these themes are best heard on such tracks as 'The World Is All', where Lily's powerful lead vocals, accompanied by Pardini's soulful piano and Rhodes performances, seem to be singing goodbye to a lover and exploring the idea of self-acceptance. Or 'Child', where Abigail's sultry lead vocals, accompanied by a bluesy guitar rift from Velasco, explore the idea of being ready for unconditional love. 'Getaway', co-written with Lily's husband Seth Thomas, is an escapist's vacation with the one you love. Thanks to Pardini's psychedelic Rhodes, Horne's tambourine and Lee's foot-tapping drums, it is as sunny as a summer's drive along the Pacific Coast Highway.
'Angeleno', a bittersweet country-infused postcard to LA, features a pedal-steel performance from Horne that would feel comfortable alongside anything Sneaky Pete Kleinow did with the Flying Burrito Bros. 'We Will Not Stop Singing', a contemporary protest song, closes the album. First performed at the People's Climate March, the song, with its sing-a-long verses, has since become a staple at the Chapins' live shows and reflects their folk roots possibly more than anything they have recorded to date.
"Today's Not Yesterday" delivers what we have come to expect from the Chapin Sisters, enchanting harmonies and lyrics that are infused with as much hope as they are longing. They might have moved back east and surrounded themselves with impassioned activists and thoughtful folk icons, but this album captures an infectious Southern California vibe that leaves us wanting more.