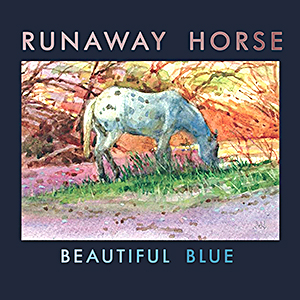 Austin, Texas, based ethereal americana band Runaway Horse is set to release their debut album, "Beautiful Blue", on January 20th, 2017. Led by singer songwriter Mari Tirsa, the album draws the listener in with the sounds of an American frontier coupled with the far reaching influences of our dream world. It is both grounded and cosmic, grabbing the listener immediately while revealing its many layers with repeat spins. Tirsa blends earthy folk like vocals and plaintive ethereal tones with sparse and drifty guitars, keyboards and percussion to create a hypnotic cosmic americana vibe.
A native of New Mexico, Mari Tirsa writes songs that strive to connect the dust and toil of the landscape to the vast and otherworldly skies above. Together with her carefully curated band of musicians, she bridges grounded Americana folk with the ambient sounds of our dream world. Her music expresses the experience of cosmic consciousness and oneness.
Produced in Austin at Rubicon Studios by Daniel Barrett and featuring Rick Richards on drums , "Beautiful Blue" is almost hymnal, carrying the listener from dark night of the soul moments to redemption and grace through the raw sensuality of the natural world.