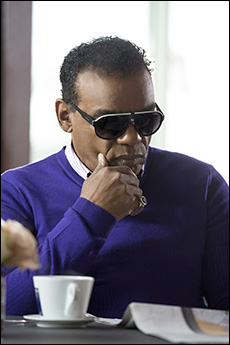 "I think this record's gonna make some history", Ronald Isley says of "This Song Is For You", his first new album in three years and his eOne/Membran/Naxos debut. "I wanted every song on it to sound like it could be a single. That's what we set out to do, and I think we did it."
Indeed, "This Song Is for You" finds the veteran artist turning his iconic, instantly identifiable voice — one of the most distinctive and soulful in contemporary music — towards 13 sleek, sexy slices of state-of-the-art R&B that address matters of love, romance and passion, with the same effortless eloquence that's won Isley his reputation as one of the most skillful singers of our time.
"This Song Is For You" matches Isley's sublimely expressive vocals with the talents of some of R&B's hottest young producers and songwriters, resulting in instantly compelling music that merges timeless emotion with radio-friendly modern sonic craftsmanship.
The seductive slow jam "Dinner And A Movie," which emerged as the most-added song at urban AC radio before the album was even released, is one of eleven tracks that were produced or co-produced by acclaimed studio auteur Troy Taylor, who first worked with Isley on the 2006 hit "Just Came Here To Chill".
Among the album's other memorable Taylor-produced tracks on "This Song Is For You" are the intimate "Lay You Down", which teams Isley with Trey Songz, and the steamy "Another Night". The latter song interpolates elements of the classic "Between The Sheets", which Isley recorded in 1983 with his legendary group the Isley Brothers. Other standout numbers include the playful, upbeat "My Favorite Thing", a duet with Kem, who also wrote and produced the track, as well as Isley's collaborations with noted producers Bryan Michael Cox (on the swaggering "Let's Be Alone") and Jordan Suecof (on the heartfelt title track).
"I love every song on this album", Isley notes, adding, "I really think 'My Favorite Thing' is gonna blow a lot of minds. Kem is a real good friend of mine, and I love the song and I love the way we did it together. And I had a ball working with Troy Taylor. He's been studying the Isleys since the beginning of his career, so he knows me really well, and knows what I like and what's right for me".
Impressive as it is, "This Song Is For You" is just the latest chapter in Ronald Isley's stellar, remarkably resilient musical life, first as lead singer of the Isley Brothers and more recently as a solo performer. Recording hits in virtually every era of contemporary popular music, Isley has created an incredible body of work that encompasses countless immortal soul, R&B and rock 'n' roll classics, including "Shout", "Twist and Shout", "This Old Heart Of Mine", "It's Your Thing", "That Lady", "Harvest For The World", "Fight The Power", "For The Love Of You", "I Wanna Be With You" and "Don't Say Goodnight (It's Time For Love)".
Ronald Isley remained at the helm of the Isley Brothers for more than half a century. The brothers got their start singing gospel in the 50's and entered the cultural mainstream in 1959, making their chart debut with the seminal party anthem "Shout". The Isleys (with Ronald joined by siblings O'Kelly and Rudolph) continued to move with the times, recording for Motown Records during its mid-'60s, while the group's far-reaching influence manifested itself in successful cover versions of their hits by the Beatles ("Twist and Shout"), Lulu ("Shout"), the Yardbirds ("Respectable") and the Human Beinz ("Nobody But Me").
In 1969, seeking to exercise more control over their musical output, the Isley Brothers launched their own label, T-Neck Records, on which the group pioneered an influential soul-funk-rock sound and expanded into a self-contained vocal-instrumental outfit with the additions of brothers Ernie and Marvin, and brother-in-law Chris Jasper. The Isleys achieved massive commercial success on T-Neck, scoring a lengthy series of crossover hit singles and platinum albums through the early 80's. With O'Kelly's death in 1986 and Rudolph's retirement to the ministry a few years later, the Isley Brothers reorganized in the 90's around Ronald and younger brothers Ernie and Marvin.
The Isley Brothers maintained their place at the forefront of popular music in the 90's and 00's, winning new generations of fans with such hits as "Contagious", "What Would You Do?" and "Just Came Here to Chill", and collaborating with such high-profile producers, performers and co-writers as R Kelly, Babyface, Keith Sweat, Raphael Saadiq, Jill Scott, Snoop Dogg, Lil' Kim and Jimmy Jam & Terry Lewis. Ronald's voice was featured prominently on R Kelly's 1996 hit, "Down Low (Nobody Has To Know)", which also introduced his flamboyant alter ego Mr Biggs, a role he played in a series of Kelly videos. Ronald also guested on notable releases by such hip-hop acts as 2Pac, Warren G and UGK.
In 2003, Ronald teamed with master songwriter-arranger Burt Bacharach to record "Here I Am: Isley Meets Bacharach", a widely acclaimed collection of Isley's personalized interpretations of Bacharach classics. He released his first official solo album, "Mr. I", in 2010, the same year that his youngest brother Marvin passed away.
Now, with "This Song Is For You", Ronald Isley is carrying his powerful legacy into the future, taking on new musical challenges and achieving new creative milestones.
"I'm so thankful for my history and so proud of my past", Isley states. "But I also feel blessed to be able to change and to come up with new things. It's the greatest feeling in the world to still be making music. I still love to sing and I still love to make records, and I still want to make some more history".