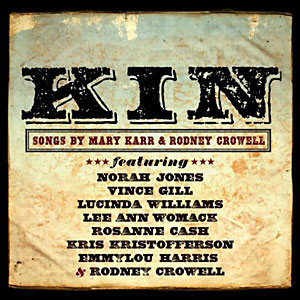 Rodney Crowell and best-selling author Mary Karr are scheduled to release "Kin - Songs By Mary Karr & Rodney Crowell" on Vanguard Records June 5th, 2012. Produced by Joe Henry, "Kin" marks the first collaboration between the two writers and is Karr's entry into the world of music.
Long known as a poet among songwriters, Crowell is a masterful storyteller and hit generator. He charted five consecutive number-one hits with the album "Diamonds & Dirt" and has become one of the most critically acclaimed artists in country music. Crowell's songs have been recorded by the likes of Johnny & Rosanne Cash, Keith Urban, Tim McGraw and Norah Jones.
He was recently inducted into the Songwriter Hall Of Fame between Willie Nelson and Guy Clark. After reading Karr's memoirs — "Cherry" and "The Liar's Club" — which spent over a year on the New York Times bestsellers list and allegedly kick-started the memoir craze — Crowell name-checked her in "Earthbound", a track off his critically acclaimed album "Fate's Right Hand".
"I called out to her in the darkness because she was a bona fide poet I knew could write songs", Crowell added, "and despite her professor's pedigree, she'd ridden a bike in a mosquito truck's fog". Karr has taught at Harvard and Syracuse University, where she still holds a chair in literature.
Upon hearing Crowell's songs, Karr recognized her own less-than-perfect family. "We grew up about 100 miles apart in the same stretch of east Texas Ringworm Belt", Karr said. She mentioned that both childhood homes had bullet holes in them from their parents' drunken rampages. But there's a thread of grace and redemption and at least one gospel number among their ballads and rock songs. In their most recent memoirs, Crowell's "Chinaberry Sidewalks" (Random House) and Karr's "Lit" (Harper), religion figures prominently.
They claim a deep spiritual connection made them brother and sister — or kin — and informed their work. "We settled down and raised a record", Crowell claimed. The stellar lineup of vocalists who render the songs — longtime friends of his — became extended family; Norah Jones, Vince Gill, Lucinda Williams, Lee Ann Womack, Rosanne Cash, Chely Wright, Kris Kristofferson, Emmylou Harris and Rodney himself, with Joe Henry producing.
Asked to draw the source of their respective successes in literature and music, despite early hard knocks, Crowell said, "Neither of us was a crybaby, and we kept loving everybody we shared DNA with — no matter how crazy". Karr said, "An outlaw pedigree isn't always a disadvantage for a poet", adding, "this record's about everybody".