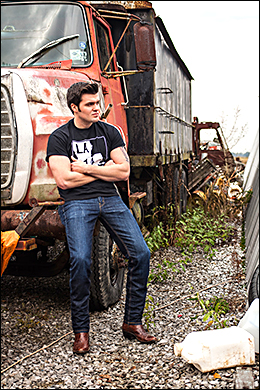 It is the mark of great artists to build on past work, rather than cover old ground. This is true of Rod Melancon and his upcoming 5 song EP,"LA 14". In the same way Johnny Cash captured the Arkansas of his childhood and Springsteen brought Asbury Park alive for millions, Rod Melancon has brought the sound and feeling of South Louisiana's storied towns filled with conflicted characters. The sound is driven with a raucous blues that would make Leadbelly feel at home. Rod grew up in the shadow of Angola State Prison where the great bluesman made his home for many years.
Deep in the swamp lands of South Louisiana, found in the small towns off State Highway 14, along the Parish lines and the borders that dwell with the native sons of this often unseen heartland, there are stories waiting to be told. There are ghosts to conjure up in the night fires and bayou jamborees. It takes a special artist to conjure up the soul of the land through song and story. It takes an artist possessed of a singular vision. Welcome to the world of "LA 14". It is a world that is uniquely Rod Melancon, born and bred in South Louisiana.
On this new EP Melancon, with the help of innovative producer, Brian Whelan, former lead guitarist for Dwight Yoakum, has pushed the artist's song-cycle into a swamp-like, country blend that moves out to the parameters of psychedelic-rock laced through with strains of deep southern blues. It is brought together by Melancon's strong singer-songwriter sensibility. His songs here, while entirely original, echo the lyrical poetic soul of Guy Clark and Townes Van Zandt.
If the finest artists write what they know, then with "LA 14", Melancon has not only written what he is intimately familiar with, he also gives us a portrait of his love for the land of his childhood and the souls he has encountered during his lifetime.