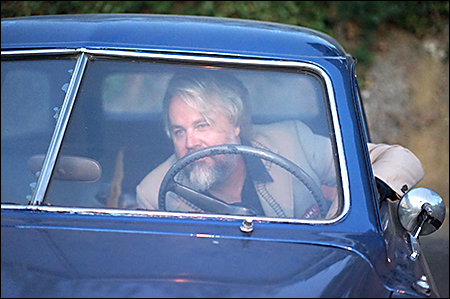 Welcome to the most vivid and unlikely collection of cover songs you may ever hear. "Fancy Free", the new solo album from Robert Rex Waller Jr, summons works from brilliant obscure artists and icons of popular music alike, taking listeners into a soundscape of exuberance, heartache, and everything in between. It's a place where the plaintive strummings of Daniel Johnston and Mike Stinson commingle with the visionary lyricism of Neil Young and Nina Simone, and with wonderfully off-kilter romps from the Oak Ridge Boys, The Hollies, and The Doors.
Eclecticism is among the music world's greatest clichés, and rarely is it pulled off. In the expert hands of Waller, widely respected as one of Los Angeles' premier independent musical artists, it is a triumph. These are songs you know, or will instantly feel you know, rendered entirely fresh and compelling. They hit you deep, make you grin wide, and often do both at once.
Waller is best known as the lead singer and principal songwriter of I See Hawks In LA, the singular americana outfit that High Times calls "the house band for a revolution that isn't over yet", and Dave Alvin has dubbed "one of California's unique treasures". Over 7 Hawks albums and a decade of touring, Waller's warm, recognizable baritone and imaginative songwriting have reached far and wide. "Fancy Free" is epic and kaleidoscopic in some whole new ways. It ranges from the sublime (The Kinks' Waterloo Sunset' and Neil Young's 'Albuquerque') to the delightfully bizarre (The Hollies' 'The Air That I Breathe' and The Oak Ridge Boys' title track). There are inventive trips to the crossroads of blues, jazz, and country (Nina Simone's 'Don't Pay 'Em No Mind'). And, some rocking throwdowns (including a propulsive take on Bob Dylan's 'She Belongs To Me', which joins the few Dylan covers that, in their freshness and spark, truly do justice to the original).
As always, Waller surrounds himself with top-tier musicians who also know how to help arrange and deeply animate a song. Key collaborator and producer Marc Doten (The Negro Problem, Double Naught Spy Car) contributes vocal harmonies, upright bass, and lively keyboard work. Colleagues from I See Hawks in LA, Paul Lacques on telecaster and lap steel, and drummers Anthony Lacques and Shawn Nourse, provide ethereal twang and some serious thump. Jazz violinist Nora Germain is among several other players who add elegant flourishes. It's only fitting that Side A closes with the piano touch of Robert Rex Waller Sr, dad, dropping in from Memphis, on an ephemeral verse of "Amazing Grace".
"Fancy Free" is the latest release from the Hawks' label, Western Seeds Record Company, and fans of Waller and the Hawks' unique California country will also find plenty to savor on the album, including Willie Nelson's 'Me and Paul' and Utah Phillips' 'Walking Through Your Town In The Snow'. But here, the more traditional roots are wrapped in exquisite bursts of indie rock, jazz, punk, and 70's psychedelia, for a grand collection that no music devotee will want to miss.