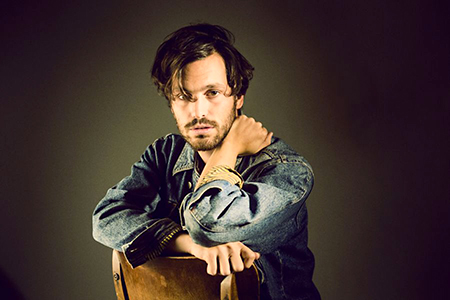 Born in Los Angeles in 1987, Robert Francis is the son of a classical music producer. He was given his first National Slide guitar at the age of 9 by family friend Ry Cooder, then taught how to play it by John Frusciante (of Red Hot Chili Peppers). Releasing a debut album entitled "One By One" while still in his teens, it received rave reviews in the US, where he was compared to the young Townes Van Zandt. Subsequently signed to Atlantic, he had a #1 single in France with a song entitled "Junebug" from his sophomore effort, "Before Nightfall", which itself went Gold in that territory.
Following this success, Francis recorded his 3rd album, "Strangers In The First Place", in a mansion in Malibu. An ambitious effort, Atlantic couldn't categorise it and, rather than looking to please the label by enlisting a new producer or a team of co-writers, he left the company and signed a new deal with Vanguard Records, who released the album in 2012.
A lengthy tour in support of its release was cut short due to a near nervous breakdown. Francis promptly immersed himself in drugs and alcohol, shaved his head and moved to Michigan with a girl he'd met on the road and quit music. "I'd never known a life other than one consumed by music. I had to lose myself in order to rediscover who I was in the beginning. I was able to do that in Michigan and eventually left to start over and pursue a series of songs that kept showing up in my dreams".
With a fresh outlook, Francis formed a new backing band called The Night Tide and they began recording in a barn an hour outside of Seattle. The journey then took them to Laguna Beach where they recorded in a house on the sand. Not long after, Francis built a studio in his Mt Washington home and finished the album there.
"'Heaven' is an idea, place or feeling which all of us are after yet cannot fully understand. Most of the songs on this album are concepts dealing with things that are much bigger than us. 'Love Is A Chemical' copes with the desire to be in control while coming to terms with one's fate -- that we're victims to the cards we're dealt. 'Blue', in a similar sense, ponders over the notion that we are alone in a dense world in which our choices have already been made - yet we are defined by how we manage them".
"Heaven" is Robert Francis' most fully realised album to date. A feverish journey through the emotional tumult of youth and self-possessed in the face of uncertainty, his is an urgent, bewitching voice, melding a spectrum of music and emotion into something distinctly personal and immediate. Through his kaleidoscopic lyrics and vivid musical landscapes, he paints a portrait of a man on the fringes of himself and reality.
"Heaven" is produced by Robert Francis, mixed by Mark Rains (Black Rebel Motorcycle Club) and mastered by Howie Weinberg (Nirvana, Jeff Buckley).