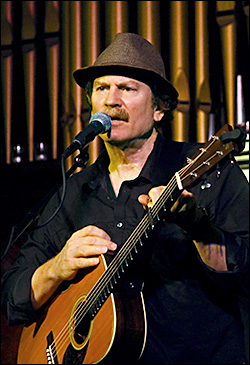 On "Prophets On The Boulevard" master storyteller Rob McHale takes you on a walk through the Boston Common, up to a mountain top in West Virginia, to a street corner prophet helping the downtrodden, and on a stroll in an historic small town along main street.
Woody Guthrie leaves us with an inspiration to make the world a better place in "Woody's Shoes" as Mother Jones is too late to stop a movement on "Blair Mountain". Folk songs with a dash of roots and contemporary bluegrass influence make observations about ourselves and our world.
Recorded in the North Carolina mountains with producer Chris Rosser, Rob and his bandmates returned for a balanced album featuring social commentary, history and love. Massachusetts artists Mark Mandeville and Raianne Richards made contributions along with Rob's brother Pat featured on the harmonica, and a few other musical friends.
Rob has been performing in the southeast and internationally sharing stories about some of our greatest folk legends at a range of venues, from historical societies and libraries, to telling the Tom Dooley Legend at the grave of Laura Foster during the Happy Valley Fiddler's Convention.
"Prophets On The Boulevard"is Rob McHale's 4th release.