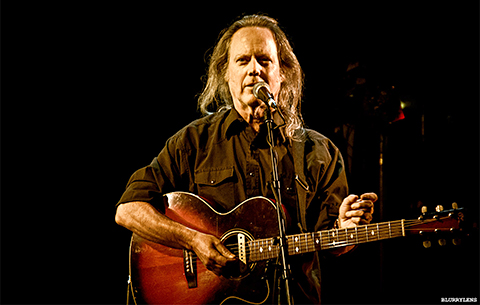 Sitting squarely on top of the main fault line of the San Andreas, the old railroad town of San Bernardino has seen its share of troubles. On "Sweet Bernardine", the title track of Rick Shea's new album, Shea sings about San Bernardino and its troubled story, but still finds bittersweet comfort in the old and the familiar. Shea grew up in San Bernardino and cut his teeth in the bars and honky-tonks there, later building a career as a singer, guitarist and songwriter.
"Sweet Bernardine" reflects that and the rock, country, folk and Mexican music he grew up with there. "Sweet Bernardine" is a collection of songs of Shea's own stories and stories of California and beyond, and it's his most personal and compelling album yet. The arrangements are spare and simple, based mostly on acoustic guitar, bass, accordion or mandolin and drums, although Shea does pull out the Telecaster for a few.
The first track, "Mexicali Train" recalls a trip Shea took on a Mexican train, trying to forget a broken love affair and finding out that your memories travel along with you. "John Shea From Kenmare" tells of Rick's great-great-grandfather from County Kerry and his imprisonment during the Civil War. "Mariachi Hotel" is about the old hotel in Boyle Heights in East LA where, for a time, a lot of local mariachi musicians stayed.
Shea is an evocative singer with a haunting voice and an accomplished guitarist and instrumentalist who plays with a long list of other notable artists when he's not busy with his own schedule. Equally at home with an acoustic guitar or his worn old Telecaster, Shea's songs draw from folk, country and rock, as he prefers to let the songs find their own settings.
Says Shea, "If I had to compare myself I would say that when I was younger Merle Haggard cast a long shadow. But since then Dave Alvin, Jim Ringer and all the other music I grew up with has found its way in". In addition to playing in California, Hawaii and other parts west, Shea toured Ireland and the UK the last couple years and plans to return. "I've always played live shows. From the bars, honky-tonks and coffeehouses I started in, to the shows I do now. It's a chance for me to see people connect with the songs and that's really what it's all about".