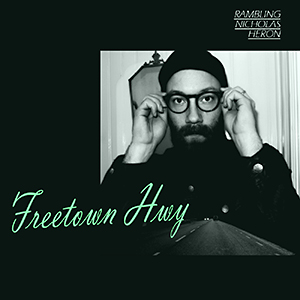 "After having released 'Cannot Feel At Home In This Word Anymore' in 2012, produced by Björn Olsson, I brought a new set of songs to the rehearsals, that would eventually form the basis of 'Freetown Hwy'. 6 of these were recorded on April 19th through April 21st, 2013.
Not happy with the results, five months later I went back to re-recording the expanded album in the Suitcase Studio of my basement using the Yamaha MT120 four channel cassette portastudio.
Creativity was sparked by some serious impressions of fall, like the leaving fair-weather birds and also my mother's fatal illness, so I began working on more songs and re-working old ones, songs that had been maturing for almost ten years. In one way it was all therapeutic but also it occurred to me that this is the sound I love, this sounds right to me. And if it sounds right to me, it's gotta sound right to somebody else! Mind you, I've been working this way since 2006 when I first got the apparatus. I've recorded some 10 albums on this one.
I'd say this album was inspired by a lot of guitar books I have. I love my Fender books like Tom Wheeler's books and also the 'Sound Heard 'Round The World'. Great inspirations for songs! What's more, the title 'Freetown Hwy' refers to my hometown and obviously incorporates a lot of childhood memories; of my mother, lost friends, lost places, polaroids and what not.
The photo of the road that appears on the album cover, the freetown highway, was taken through the windshield while driving from my late mother's funeral. For what it's worth. This is really an important album for me and it's the closest I've ever gotten to Precious. Oh, well... enjoy. Thanks!"
- Rambling Nicholas Heron, March 29th, 2014 -