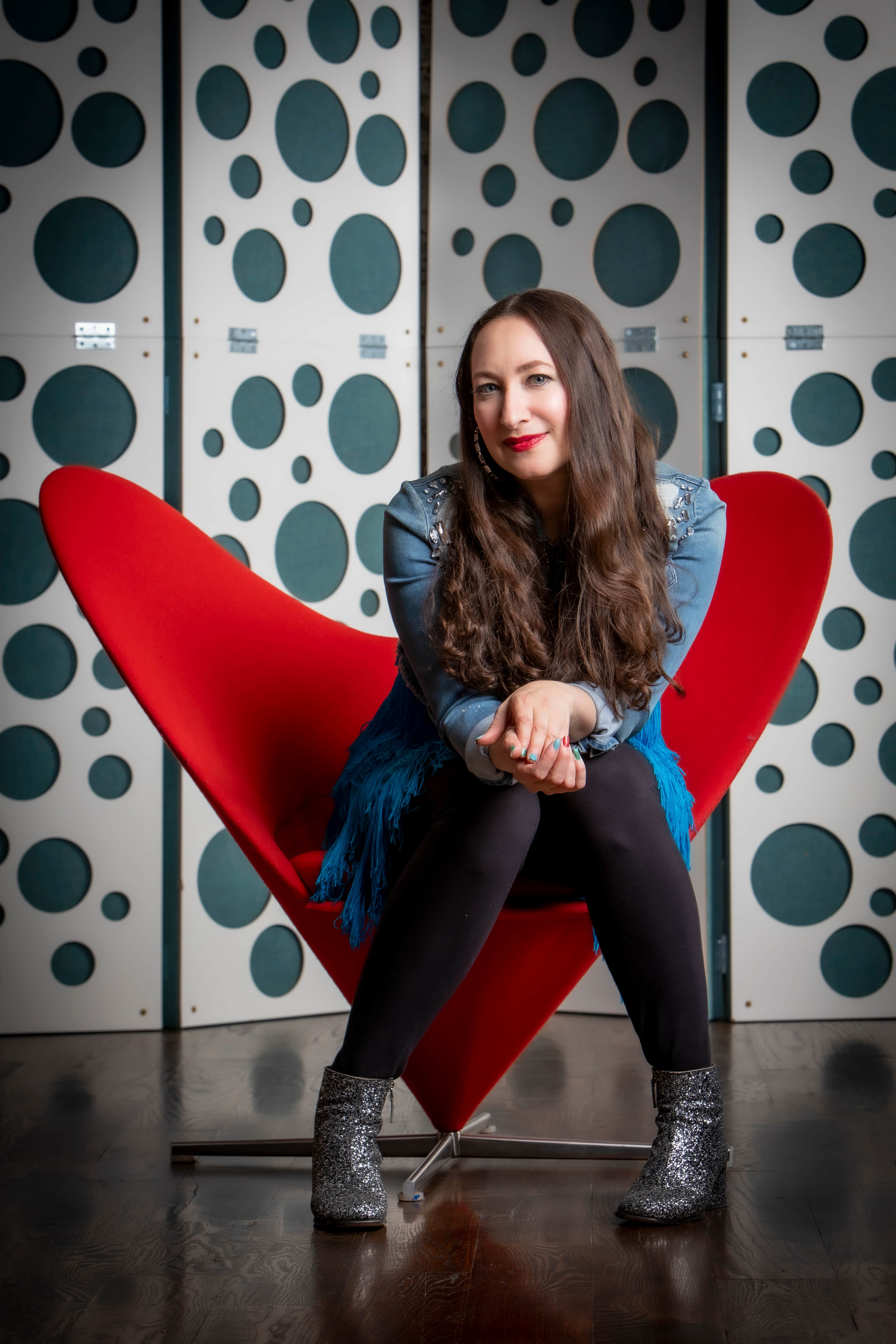 Singer, songwriter, poet, arranger and producer Rachael Sage's new album "The Other Side" is her 15th and most grounded album to date. The phrase 'the other side' is often used with reference to political arguments, opposing perspectives, military adversaries, physical barriers such as walls or prison bars, or the afterlife. Vinyl and cassette album sides also spring to mind, prompting nostalgia, but also reminding us of our inherent need for polarities in everything from pop music to inhaling, exhaling.
Sage welcomed all of these implications and more when titling this musically and lyrically intricate, emotional and beautiful album. Recorded in 2022 around back to back tours with UK based pop artist Howard Jones and Irish singer songwriter Imelda May, the songs on the album span a variety of genres, to be expected from the perennially eclectic multi instrumentalist, but collectively fall comfortably into the realms of americana, alt folk, and pop. Lyrics are more direct, instrumentation is easy-going, and there is a sense of assuredness that only arrives with life experience.
Sage, who has released the collaborative spoken word project "Poetica", as well as full length album "Character" and EP "Revelation Ground" over the past 3 years, really attempted to stretch her range on "The Other Side". String arrangements are equal parts intimate and lush, and there's a sense of expansiveness that never overtakes her gritty but ethereal vocal delivery. Balancing light and dark, quiet and occasionally even a little bombast, acoustic guitars, fiddles, tympani and trumpets amplify lyrics bound by Sage's hard won appreciation of freedom's most desired consequence: peace.
Produced by Sage with engineers Mikhail Pivovarov and Grammy® winner Andy Zulla, the 13 tracks comprising "The Other Side" recall the classic, retro warmth of 70's and 80's touchstones like early Elton John ("No Regrets"), Paul McCartney ("Flowers For Free"), "Nebraska"-era Bruce Springsteen ("Whistle Blow"), John Prine ("Butterflies At Night"), and Elvis Costello ("I Made A Case", featuring guest vocals from UK pop icon Howard Jones, and co-written with Nashville hit songwriter Jeff Cohen).
The overarching theme of duality is explored by Sage through both a personal as well as universal lens. "Butterflies At Night" honors a former boyfriend and beloved musical peer who passed away unexpectedly during lockdown. Sage, a self professed night owl who loves suspense driven tv and film, pays tribute to national fixation 'Stranger Things' with the stream of consciousness piano romp "Deepest Dark". Featuring Jack Petruzzelli (Patti Smith) on arpeggiated acoustic guitar and Russ Johnson (Elvis Costello) on trumpet, it is among several tracks on the album that explore the relationship between love, openness and mortality.
Somber alt rocker "Albatross", which features longtime collaborator James Mastro (Ian Hunter) on guitar, boldly asks what it means to be a human being and how to undo the damage societies inflict in these often divisive, complicated times. Sage covers the Yazoo classic "Only You", giving it a fresh interpretation and a rootsy, string-laden arrangement, while still incorporating her childhood affection for drum loops and 80's synths. 2 other lesser known covers on the record round out the Sage penned originals: Maria McKee's "Breathe" and a ballad by 90's New York City female fronted rockers Danielle's Mouth entitled "Forgive Me This".
Explains Sage, "This record is more stark than my previous work, and less afraid to look fear in the eye or give fate the finger. When I wrote the song 'The Other Side', I was separating from someone I still loved very much, with whom I hoped to maintain a friendship, but they did not. I had to somehow make peace with that, which of course was painful. It was a watershed moment when I could concede that releasing what wasn't working, at the height of a pandemic, wasn't failure, but rather, positive self clarity. A family member had just been diagnosed with a serious illness, requiring me to be fully present to help them through it. The world seemed to be burning, but the grace of friends, loved ones and a beautiful creative community I found in upstate New York carried me through. The song is essentially a gospel plea for a more forgiving future and for peaceful liberation, beyond a time of crisis".