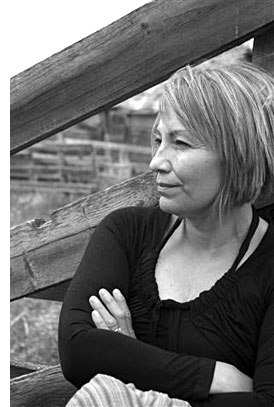 Folk singer/songwriter Phyllis Sinclair is a musical raconteur. Her distinction lies in the rendering of diverse stories told through visually captivating, intellectually stimulating lyrics. Indicative of her writing is the poignant, often humorous story-telling style, characteristic of Cree narrative that paints pictures in the mind. Her stories often focus on perseverance, demonstrating the strength and resiliency of the human spirit. In essence, she tells of common experiences while maneuvering through and around the potholes of life. From indomitable North Coast fishers to enduring prairie farmers she respectfully chronicles "life as it is".
Raised on the western shore of the Hudson Bay in Churchill, Manitoba, Phyllis' music was formed while listening to reels and jigs tapped out on spoons and boot bottoms at spirited gatherings. In the 1980's, Phyllis took time to raise a family and pursue a career in journalism. In 2002, she returned to songwriting penning "Fence Posts and Stones" the sentiments of a prairie farmer on his eroding farm. This song ended the decades of long silence and reignited her passion for songwriting and performing.
In 2006, Phyllis released her debut CD "Fence Posts and Stones" to positive reviews. Penguin Eggs Magazine called it "positively impressive" and published the sheet music to "North Coast Fisher Wife's Prayer" in that same issue. Lethbridge University radio station, CKXU ranked "Fence Posts and Stones" at #7 on the Folk/Roots/Blues charts in August 2006, while NCI-FM radio's Top 30 Countdown ranked "Hard-Time Hannah" #1 for two consecutive weeks in October 2006. As a result, CBC Winnipeg television produced a news story on the positive impact "Hard-Time Hannah" had on the aboriginal community in that city. Her follow up CD "Fathomless Tales from Leviathan's Hole" continues in her story-telling tradition.
Phyllis Sinclair has performed at the world famous Bluebird Café in Nashville, Tennessee, opened for Juno Award Winners, Ray Bonneville, and Bill Bourne. She has been featured in the Rangeton Farmer's Festival Songwriter's Circle, requested for repeat performances at the Springboard Hoedown in Athabasca, Alberta, and performed at the Tongue on the Post Folk Festival in Medicine Hat, AB. In 2008, Phyllis was nominated by the Aboriginal Peoples Choice Award for Best Songwriter, Best Single and Best Folk/Acoustic Album for "Fathomless Tales from Leviathan's Hole".