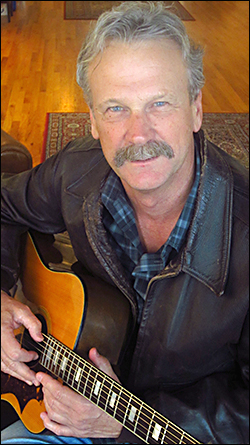 "Nevada Sky" documents a life of inspiration, reinvention, and marks a profound coming together of many of the facets of Peter Blachley's life — family, photography, music, loves won and lost, and professional and personal aspirations. In Blachley's journey, he's been a carpenter and served in Vietnam. His second act was being a music video pioneer through making culture-defining videos with the Stray Cats, George Thorogood and Duran Duran as an executive producer and marketing visionary. During this time, Blachley worked at Capitol-EMI, and he went from the mailroom up to being music a marketing executive before cross-fading to EMI's Picture Music International as music video division executive, content producer and marketerer. At 50, his music business tenure ended, and he reinvented himself as a gallery owner, co-finding the fine art music photography gallery the Morrison Hotel Gallery with partners Richard Horowitz and iconic photographer Henry Diltz.
"There is hope in the fact that you can always reinvent yourself. Reinventing is about finding something you want to do everyday, something that makes you happy, and finding a way to make money doing it", Blachley says.
For his third act, Peter Blachley is emerging as a captivating singer-songwriter with his debut album, "Nevada Sky". It's one of those storyteller albums that instantly feel like an old friend. It recalls the work of Crosby Stills Nash, John Stewart, Neil Young, Waylon Jennings, and Ian Tyson. It stretches across the highways of high lonesome country, confessional folk, and swampy rock n' roll. And it authentically evokes the rugged mountains and big open skies of the west, and the burly swagger of the big cities of the east—it is pure Americana through and through.
"Nevada Sky" begins with the sweet country weariness of "Big Old Train" and the opening lines, 'If you tell me where were going/and I'll tell you where we've been/and that big old train keeps rolling down the line'. It's an apt and warmly engaging metaphor to start a storyteller album. From there, with a richly expressive baritone, Blachley takes the listener to the streets of New York City with paternal sensitivity on the folk tune "Soho Sunday Morning", and to breathtaking open sky beauty of "Nevada Sky". And the poignant and poetic "Salvation Songs" transports the listener to the optimistic fire of the protest song movement and the ensuing introspective singer-songwriter movement of the 70's.
The route to "Nevada Sky" began when Peter Blachley was aged 19, aboard a TWA 707, flying over the Mekong Delta on approach to Bien Hoa, Vietnam. "I remember while we were descending, I looked down at the bomb-ravaged craters in the landscape below while listening to Scott McKenzie's 'If You Are Going To San Francisco, Wear Some Flowers In Your Hair'. That image with that soundtrack had a profound effect on me", Blachley says. Despite being a drummer and vocalist prior to his time in Vietnam, it would be after the war that Blachley began learning guitar and writing songs in earnest. The revelatory record for Blachley was "California Bloodlines" by John Stewart — an album that features an album liner photo shot by none other than Henry Diltz.
The artistic connection with Diltz spans decades and extends to the Morrison Hotel Gallery where "Nevada Sky" became a reality. Buzzing around the gallery there is a scene of artists, musicians, writers, thinkers, and tastemakers who freely exchange ideas and collaborate. Within this environment, Blachley felt comfortable sharing his songs, and would ultimately find the musicians to realize the music he's carried around in his head and heart all these years.
In 2012, Blachley and producer Felix McTeigue began recording "Nevada Sky". Over two years the pair recorded tracks at Saltland Studios and Vel Studios in Brooklyn, and at the Morrison Hotel Gallery loft. Blachley and McTeigue's artistic intent was to capture the music as purely as possible. "We strove for a colorful simplicity, we didn't want to crowd the songs", he says. "Nevada Sky" features all Blachley originals except "I Call Your Name" which was written by Willy DeVille. Supporting Blachley in the studio is an all-star cast of players including guitarist Chris Masterson (Steve Earle), guitarist David Mansfield (Johnny Cash, Bob Dylan), bassist Byron Isaacs (Ollabelle), bassist Jeff Hill (Rufus Wainwright), bassist Luis Guzman (Lila Downs), keyboard player Jeff Kazaa (Southside Johnny), drummer Tony Leone (Ollabelle), vocalist Fiona McBain, (Ollabelle) and legendary singer-songwriter Willie Nile.
Blachley has played esteemed venues in San Francisco, Los Angeles, San Diego, New York, and Nashville. His gigs at the Bluebird Café in Nashville have been a particular highlight, not only because the positive Nashville response was validating for a burgeoning songwriter, but because while there, Blachley was able to reunite with his son who was adopted at 3 and is now 42. "He got up onstage with me to sing harmony vocals", Blachley recalls. "That was one of the most wonderful experiences in my life". "Nevada Sky" folds family stories, personal and professional journeys, and lifelong dreams into one Americana storybook. Blachley says in conclusion, "with this album, I've left my legacy".