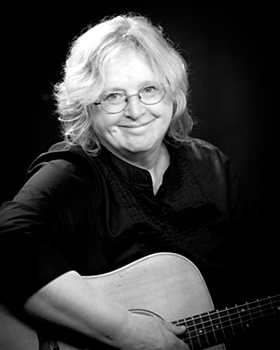 Like many musicians in the Sixties, Penny Nichols started her career as a folksinger in coffeehouses around Orange County, CA. She shared stages with many legendary artists such as Jackson Browne, Nitty Gritty Dirt Band, Linda Ronstadt, Jennifer Warnes, Mary McCaslin and many others. In 1964 & 1965 she sang in a bluegrass band with John, Bill & Alice McEuen (John then took Jackson Browne's place in the Nitty Gritty Dirt Band and the rest is history) and then formed a duo with Kathy Smith called the Greasy Mountain Butterballs which toured Vietnam in the fall of 1966. Upon returning, she opened the show for numerous artists at the Troubadour and the Ash Grove in Hollywood.
In the spring of 1967, Penny rode up to San Francisco on the back of a Harley motorcycle and decided to stay in the bay area for a while. She performed in concerts and clubs all over the bay area including: the Fillmore, the Avalon, the Matrix and opened for bands such as Big Brother & the Holding Co, Steve Miller, Quicksilver Messenger Service, 13th Floor Elevators, Chocolate Watchband, Jefferson Airplane and others. During the "Summer of Love", Penny played at the Big Sur Folk Festival and recorded her first album, "Penny's Arcade", for Buddha Records. (It eventually sold over 50,000 copies) After touring the U.S. promoting her album in the fall, she toured Europe in the winter of 1968, staying with George & Patty Harrison and recording at Apple Studios while in London.
On her return to the U.S., she decided to devote her time exclusively to songwriting for a number of years and studied voice with noted vocal coach, Florence Riggs. In 1975, she began to perform around Los Angeles with her jazz band, the Black Imp, and opened the show for Little Feat in concert. She wrote and performed commercials for Toyota's campaign to plant a tree for every car bought, Carnation Dairies, and produced a public service announcement for the Navajo Nation called "Black Mesa" to protest the misuse of the land around the Four Corners power stations in Arizona.
In 1977, while working with Emitt Rhodes on a record for Elektra, Penny joined Jimmy Buffett & the Coral Reefers. She appeared in the movie 'FM' with the band, toured the US and earned a platinum album for her singing on "Son Of A Son Of A Sailor".
In the late 70's & early 80's, Penny went back to school and earned degrees in Music & Psychology from Antioch University, and then went on to Harvard University to do research in music & psychology eventually earning a doctorate in Education there. During the same time, she recorded and toured with many performers including: Art Garfunkle, Suzi Quatro, Danny O'Keefe, Yvonne Elliman, Jennifer Warnes, Albert Brooks, The Credibility Gap, Steve Gillette and earned a Grammy nomination for her work on Arlo Guthrie's "The Power Of Love".
In 1990, Penny co-produced her second album, "All Life Is One". In 1993, she released another record, an album of songs based on the 1000-year-old Buddhist stories, "The Jataka Tales". In 1997, Penny and Molly Mason collaborated on the song "The Unbroken Thread" which is included on the CD, "The Catskill Collection".
She currently lives and teaches in the Hudson Valley of New York and is building a small studio in her house. Her most recent ventures include a new album of songs by Jackson Browne called "Colors Of The Sun: Penny Nichols Sings The Early Songs Of Jackson Browne", based on her long friendship with Jackson. The new CD features a virtual 'who's who' from the music scene in Southern California in the late 60's, early 70's; Jackson Browne himself, his brother Severin Browne, Rosemary Butler, Greg Copeland, Ned Doheny, Kenny Edwards, Steve Noonan, Pamela Polland and many others.
In early January you should treat yourself or a loved one to the fabulous new collection of Penny Nichols songs and recordings, documenting her years growing up in Southern California and her early years in Hollywood, called "Golden State". A true California native, she weaves stories and music from the culture that she remembers into a fine tapestry of life's many colors.