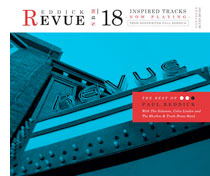 Paul Reddick has been devoted to the study of blues music all his life. Listening closely to Muddy Waters, Sonny Boy Williamson and Howlin' Wolf, he picked up the harmonica at the age of 12 and had mastered the instrument by the time he was 15.
Reddick formed groundbreaking blues band The Sidemen in Toronto in 1990. The Sidemen released 3 albums of original material and spent a decade touring across Canada.
Paul Reddick + The Sidemen released the critically acclaimed Rattlebag in 2001. Produced by roots music authority Colin Linden, Rattlebag is a masterpiece of "hard blues for modern times". Praise came in from both sides of the border, along with nominations at the W.C. Handy Awards and the Juno Awards. The band also won three Maple Blues Awards in early 2002, including Songwriter of the Year and Album of the Year. Paul Reddick + The Sidemen toured the US non-stop from 2002-2004.
Rattlebag marked the beginning of Reddick's serious attempt to re-work blues traditions with an emphasis on poetic forms and techniques. Starting at the beginning with the Alan Lomax Field Recordings, and reaching into the vast body of pre-war music in and beyond that of the type documented in Harry Smith's Anthology of American Folk Music. Reddick has sought to combine the mystery of the blues artform with the powerful spell cast by poetry.
A musician who loses himself in performance, Paul Reddick lures the audience into that half-lit blue world he knows so well. A storyteller, innovator and highly original harmonica-player/vocalist, his performances are unforgettable.
Paul Reddick teamed up once again with Colin Linden to release Villanelle in autumn 2004. This widely acclaimed album continues the Rattlebag journey towards re-styling the traditional; sidestepping convention it searches further for new possibilities in blues music.
Just out on NorthernBlues Music is Revue – The Best Of Paul Reddick.