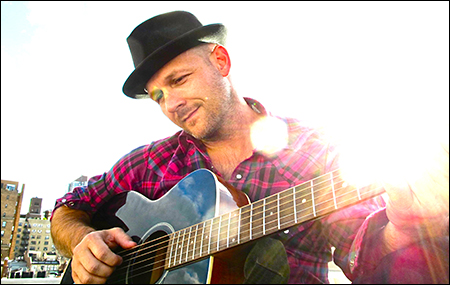 Born in Kentucky to a Southern Baptist choir director and a classically trained soprano, Paul J Phillips was destined to follow a similar path – one in pursuit of musical dreams. Music (specifically piano) and performing took its hold of Paul at an early age; by the age of four, he had already played "When the Saints Go Marching In" at the Cincinnati Conservatory.
Unfulfilled by the academic pursuit of piano which continued through college, he began playing guitar and writing songs, and soon set his mind on pursuing music in a big city. It was the flip of a coin that would serendipitously lead Paul to New York City where he immersed himself in the local music scene by teaming up with local indie-folk band Spinoza, who's 1st release, "Groove Like Corduroy" received critical acclaim. The album release was accompanied by regional touring.
A few years later, needing a breath of fresh air (literally) and inspired by the New England coast, Paul and the band moved to a small fishing village on the north shore of Boston. The band amicably broke up shortly after recording their 2nd album "The Inevitable Movement Onward", allowing Paul to begin performing more of his own music under the moniker "Sheffer Stephens".
It was in the Boston city subways that Paul quickly honed his performance skills and developed his signature sound - an unapologetic blend of rock, country, folk and soul. A passing train only gives an artist a few minutes to make a lasting impression, and Paul swiftly garnered a small local following allowing him to begin performing at multiple venues up and down the East Coast. During this time he released his 1st solo record, "Shooting Cars, Building Stars".
Neither New York City, nor the dreams of pursuing personal music interests are easily shaken and Paul returned to New York a few years later to record his 2nd solo album, "Every Time I Leave ", with producer and friend William Berlind. For this album he shook the moniker, preferring to lead simplify with his given name, Paul J Phillips. "Every Time I Leave" is best described as "jangly roots-rock Americana", colored with influences from southern traditional gospel, rock and blues and continues to receive fresh critical acclaim as well as increased momentum on Americana and college radio stations throughout the United States and Europe.
Paul J. Phillips continues regional touring both solo and with a band, to support "Every Time I Leave", and is also beginning to promote a new Rock album called "Magic", which is scheduled for a summer 2014 release.
Paul J Phillips currently resides in New York City.