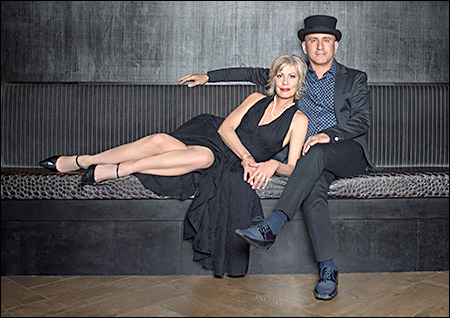 PARK88, the captivating musical marriage between award winning, gritty voiced pianist Rich Wyman and singer songwriter storyteller Lisa Needham, have confirmed the release of their debut EP "The Fearlessness" to be released September 14th via Brendan Entertainment Records. Following the release the duo will hit the road supporting The Gypsy Kings in September.
The road to PARK88 is a story of far flung travel, dues paid, and a special bond between 2 unique talents. Initially coming together in New York City, as Wyman and Needham supported their musical endeavors as a bike messenger and singing waitress, the pair began gaining a steady recognition for their talent and performing at some of the city's biggest venues.
Unexpectedly invited to Park City, Utah, by a friend, Needham and Wyman headed off for what would become a life altering vacation. Happening upon a neglected piano at a local restaurant Wyman began performing for fun and became an instant hit.
The owner offered him a job on the spot, doubled his pay within year and watched as crowds and local media coverage piled on the praise. The pair soon relocated permanently to Park City and have called it home ever since.
Shortly afterwards Needham and Wyman found themselves making the acquaintance of Rock And Roll Hall Of Famer Eddie Van Halen while he was visiting Park City. Like so many others, the guitar icon also became a fan and invited Wyman out to his 5150 Studio in Los Angeles. Along with Andy Johns, Led Zeppelin and Rolling Stones mixing engineer, they spent several years creating music together and shopping the material.
Using the tracks Van Halen performed on and Johns produced, as well as adding new songs, Wyman created his solo album "Fatherless Child", and, in another unexpected twist, found the release storming the charts in Europe and opening the doors to years of touring some of that continent's biggest stages.
While Needham and Wyman had always played shows together, PARK88 is the beginning of a new pairing of sounds with Needham's words and singing complimenting Wyman's virtuosic piano playing. "Lisa is my best friend and soulmate", Wyman says.
"So it's a spiritual experience to create and perform music together and share it with other people. When we sing harmonies together, we're having a musical conversation in the same way we've been communicating as partners. It feels magical, we're excited to finally tour together".