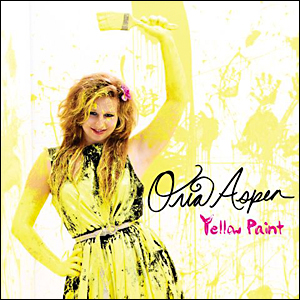 With her remarkable debut, "Yellow Paint", 17-year-old Oria Aspen bursts onto the scene and proves she is a musical force to be reckoned with. A collection of 14 songs, all but one composed by Oria, "Yellow Paint" is her amazingly mature and deeply personal journey through everyday life.
A labor of love three years in the making, Oria has composed straight-up songs like the first single, "Be My Rock Star", and the title track, "Yellow Paint", punk vibes like "Party Song", "Get Back", a defi-ant soul-rap groove, as well as darker ballads like "Scars", "M3NT@L" and "Forbidden Love".
Also included on the CD is Oria's duet with legendary New Jersey soul man and rocker, Southside Johnny, and their inter-pretation of the Louis Armstrong classic, "What a Wonderful World".
"Yellow Paint" not only showcases Oria's impressive vocal ability and masterful flute skills, but also reveals her exceptional songwriting talent.
On "Yellow Paint", Oria — the daughter of an acclaimed jazz-rock-blues guitarist — teams with some of the East Coast's premier musicians, session ace and multi-reed man Bob Magnuson, world-renowned drummer Shawn Pelton (Shakira, Pink, Kelly Clarkson, Sheryl Crow) and Van Romaine (Enrique Iglesias, Naughty By Nature, Deep Purple), The Asbury Jukes' Jeff Kazee (keyboards), The General (guitar), John Conte (bass), Chris Anderson (trumpet) and Neal Pawley (trombone), Scott Healy on keyboards (Conan O'Brien), producer and keyboard extraordinaire Michael Mancini, as well as Nashville's top session aces Mike Durham, Tony Harrell, Greg Morrow and Steve Mackey. The production and lush arrangements of "Yellow Paint" are courtesy of Oria's producer, guitarist and musical partner, The General.
Oria has wowed audiences across the United States — including headlining gigs in New Jersey, and as the opening act for James McCartney at New York's Gramercy Theatre — with her raw talent and disarming stage presence.
Sometimes sassy, sometimes heartbreaking, sometimes raucous, but always passionate, "Yellow Paint" conveys the hopes, fears, frustrations and joys that we all experience. With "Yellow Paint", Oria has managed not only to paint a picture of her world, but has invited us be a part of it.