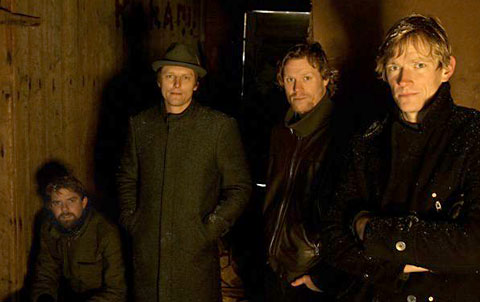 One-Eyed Mule is a band that has been strumming its chords to its own unique beat since 2005. They have been featured on the American television show 'The Cleaner' and played their very first US shows at the 2010 SXSW Festival.
One-Eyed Mule was formed in Copenhagen by Rasmus Dall (guitar/lead vocal) and Uffe Ipsen (double-bass/organ/saw). Before this, Dall had learned himself to fingerpick and rambled Spain with his guitar, and Ipsen had traveled Europe in a van for six months, playing the streets for a living.
One-Eyed Mule started out as a country-blues outfit playing songs hailing from the twenties and thirties in smoke-filled bars and taverns. In 2005 the band started writing their own songs, got a record deal and released the first album "Hobo In The Land Of Love" in 2006. For those recordings Søren Andersen (guitar, banjo, jaw harp, sitar) joined the band and brought his drumming roommate Mads Tønder.
In 2008 One-Eyed Mule released their 2nd album "From The Beats To The Bible" that had a more electric country rock feel to it. Now the mule-cyclops has put together a new album "Drifting To A Happy Place". Recorded in three days in a Swedish country house, this new album showcases a more lively and folkie sound, with small drips of Nordic mournfulness.