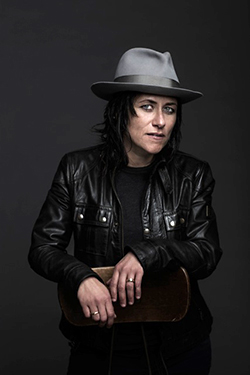 Acclaimed rock-and-roll front woman Tina Schlieske is debuting her newest band, One Of The Boys, and releasing a 6 song album titled "Pinned Up". The offering is a collection of covers by Soul Asylum, Husker Du, The Jayhawks, Prince, The Replacements and Bob Dylan from a uniquely female perspective.
"I wanted to pay tribute to the musical era I grew up with", says Schlieske. "When I first started out the Minneapolis rock scene was very male dominated. It wasn't easy competing on the sacred ground that all these men had established. I respected and admired all of them. When Patrik and I sat down to talk about this record I knew I wanted to bring a femme fatale type of feel to the songs, something that would be the antithesis of who I am when it comes to music".
Tina flew from Santa Barbara to Minneapolis, home of her first band the award winning B-Sides, to cut "Pinned Up". She partnered with friend and musician Patrik Tanner (guitars, drums, percussion, piano) who produced, recorded and mixed the album at Dark One Studios. Fellow local musician Jon James joined on bass and Wurlitzer piano.
"I wanted to sing in a higher key so I couldn't rely on old vocal habits, and we kept the overall production very minimal", says Tina. "It's a very different album for me in look and sound, one that I'm really proud of. You could say it turned out to be my love letter to Minneapolis".
Tina, a successful solo artist and front woman in multiple bands has toured with Double Trouble and has opened for artists such as Lenny Kravitz, The Wallflowers, Indigo Girls and Etta James. She has collaborated with Stewart Copeland and Me'Shell Ndegeocello, and has had multiple songs featured in commercials and major movie soundtracks.
With music as her lifeblood, and two states she calls home, Tina currently plays with a wide range of local bands and high-profile colleagues, including: the reunited Tina & The B-Sides (who are releasing their new album in early 2014), Lola & The Red Family Band, and Tina Schlieske & The Graceland Exiles.
She also contributed a killer rendition of Joe Cocker's "With A Little Help From My Friends" on the new "Sweet Relief III: Pennies From Heaven" on Vanguard Records, which features Ben Harper, Jackson Browne, Shelby Lynne, She & Him, Ron Sexsmith, Rickie Lee Jones, Joseph Arthur and founder Victoria Williams. Providing a fresh take on songs old and new, Tina Schlieske has not only become one of the boys, she continually pushes the boundaries of music.