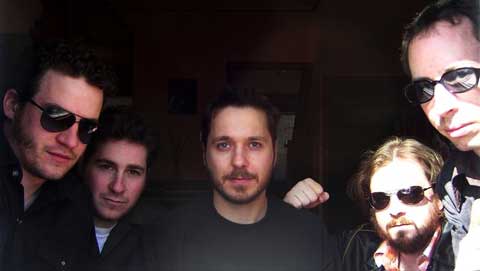 A fixture on the independent music scene for ten years, Old Reliable has earned a name making gritty honest roots music combined with the fire of rock and roll and the howl of bluegrass. Centered on the songwriting of Shuyler Jansen and Mark Davis, Old Reliable's unique style is combined with lyrics that are unafraid to explore the darker themes of traditional country music. Multi-instrumentalist Shawn Jonasson, bass player Tom Murray and drummer Scott Lingley round out the band. The key to the group's success is their ability to sound utterly natural; nothing appears forced or artificial, and no one raises an eyebrow at the bubbling synthesizers lurking behind the fiddle or the fuzz guitar solo.
Old Reliable's third recording, Pulse of Light Dark Landscape, showcases the songs of Shuyler Jansen. Tinged with violin, cello and pedal steel guitar the record moves effortlessly from winsome ballads to galloping rock songs. Pulse of Light Dark Landscape features the work of famed rock photographer Elliott Landy (Van Morrison/Moondance, The Band/The Band, Bob Dylan/Nashville Skyline) and guest vocalists Mike Caldwell (The Smalls) and Corby Lund (Corb Lund Band). Pulse of Light Dark Landscape has charted across Canada, reaching the top ten in several college, co-op and country radio markets (CKUA, CJSR, CKER, CBC Radio Sonic).
The Gradual Moment, Old Reliable's sophomore effort, features appearances by the members of Calexico and Giant Sand as well as the multi- instrumentalist Bob Egan (Blue Rodeo, Freakwater, Wilco, Billy Bragg). The Gradual Moment was composed by Mark Davis and chronicles his girlfriend's battle with breast cancer from her initial diagnosis to her tragic death at age 31. The Gradual Moment drew widespread acclaim for its atmospheric sound and reached number one at CKUA and CJSR. The album has also been featured on CBC's Radio Sonic, In the Key of A, and Definitely Not the Opera.
Old Reliable's first three albums, including their debut Gone Are the Days, were recorded by Scott Franchuk at Riverdale Recorders of Edmonton and were mastered by Peter J. Moore at the E Room in Toronto. Their latest and fourth album, The Burning Truth, was recorded by Scott Franchuk, Al Irving and David Alcock at Sundae Sound Studios in Calgary, and was mastered by Jim Wilson of Yes Mastering in Austin, TX. Featuring songwriting by both Jansen and Davis, The Burning Truth were released in the spring of 2005, following their first-ever appearance at the renowned South By Southwest festival in Austin. 2005 will also see Old Reliable performing at the Alberta Scene showcase in Ottawa, as well as a United Kingdom release compiling songs from all four of Old Reliable's albums.
Old Reliable's mesmerizing live shows have made them a number of notable friends over the years. The band has shared the stage with Guy Clark, Gord Downie, Alejandro Escovedo, Oh Susanna, Ray Condo, Giant Sand, Richard Buckner, the Corb Lund Band and many others. The members also maintain active careers outside of Old Reliable; these have produced Jonasson's old-school country project The Swiftys (whose self-titled debut came out in 2003) and Jansen's psychedelic-folk solo album The Hobotron (released November 2004).
The band is currently working on a new album for release in 2008.