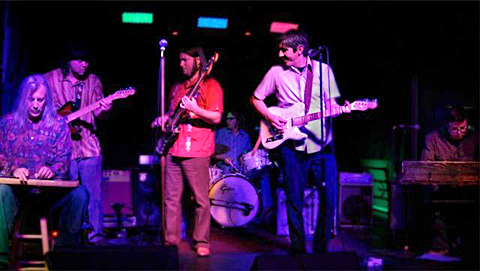 A few years ago, Old Californio self-released their debut album, 'Along The Cosmic Grass'. It was an effortlessly charming album, clearly grounded in a quintessentially West Coast California musical tradition that combines the very best in folk and rock and country. Alas, too few actually got the chance to hear that album, even as the band were drawing relatively large crowds to their frequent L.A. area gigs. Sometimes the best things just go unheard, unless you're lucky enough to stumble across it.
Well, that was then, and this is now, and Old Californio have returned with their sophomore effort, although there's certainly nothing sophomoric about 'Westering Again', if you'll pardon the obviousness of such an overused rock cliché.
You may already be a fan of some of the bands Old Californio might likely name as influences - particularly the counter-culture Bay Area bands like Moby Grape, Grateful Dead, Quicksilver Messenger Service... Or a handful of the smokier Topanga Canyon bands further down south, like Canned Heat, Neil Young & Crazy Horse and Spirit - and yet... Well, they don't really sound like any of these bands if you want to know the truth.
Like many of the best bands who released LPs some forty years ago, this new album, (and like 'Along The Cosmic Grass' before it), finds its roots in sounds that once gave California it's own identity at a converging time and place, the late sixties and early-to-mid-seventies. Try to imagine a musical interstate stretching and twisting like overgrown Napa grapevine, snaking along the foggy Bay Area coastline to the golden San Gabriel Mountains, all the way down to the sparse desert of the Inland Empire.
Now imagine that interstate leads right to 'Westering Again'.
What we're talking about here is bright guitar-driven melodies with complicated and earthy arrangements, mixed in with a little down-home country twang and dovetailing instrumental jams, providing ample evidence that they also have a tacit understanding of what made those great classic rock outfits of yore so exhilarating and memorable in the first place.
What we're talking about here are really great songs (remember those?). There's no real dross or dead weight on this ambitious work. It's a melodically complex and accomplished effort, hard set with a blast-furnace production that reveals the considerable talents of the band's membership.
Speaking of membership, at the focused core of these efforts you'll find the very talented Rich Dembowski, who plays guitar and sings with a heartfelt voice that might remind some of the Band's Richard Manuel. His lyrics are inspired, to say the least, evoking winsome images of riparian vistas and wine stained front porches. These are songs with thoughtful lyrics that fill the air.
In the same breath we should also mention the two other orbiting full-time members of the band - drummer Justin Smith and bassist Jason Chesney - who combine both explosive drumming and propulsive bass elements that expose the kind of prowess that few bands seem to have these days. And we would be remiss if we didn't mention Levi Nunez, who adds wonderful sparkling keyboards when they're needed to flesh out the proceedings.
This is spirited music, friends, and the perfect soundtrack for the interregnum, this wonderful shared experience of renewed hope and peace that seems to be sweeping across the country right now. Westering Again is liable to stir up something inside you, and to my ears, it sounds like music that could have only been created in Southern California.
Remember how the great Raymond Chandler once described the warm Santa Ana, coursing along the mountain passes and drifting across the chaparral, whining through the eucalyptus windbreaks. Chandler said this oven-hot red wind was the kind that could "curl your hair and make your nerves jump and your skin itch."
Well what I'm saying is that the music Old Californio makes stirs up a presence you can actually feel, just like Chandler's red winds, a kind of palpable sensation, like the warmth of the sun on your face. It won't actually make you jumpy and itchy, you understand, unless you're naturally prone to that type of response, that is.