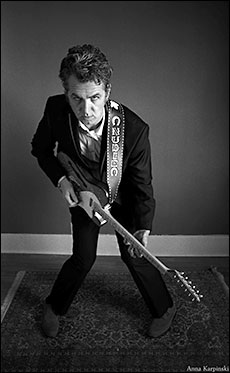 Meet Nudie. He plays his music the way Hank Williams would have liked it: Great songwriting, minimal instrumentation, a strong voice and an everyman attitude.
Born in Ontario, and before deciding to hang his hat in Prince Edward Island, Nudie had addresses in Montreal, Arizona, Toronto, Austin,Texas and New York City, soaking up the scenes and sounds of each place.
In 2005, he formed and fronted Nudie and the Turks, the name a homage to cowboy couturiers Nudie Cohn and Nathan Turk. The band first cut their teeth with a residency at the local bootleggers, then shadowed a couple of Willie Nelson tours, busking for the crowds going in, then playing after-show gigs in each city. This resulted in the band being asked to play Willie's end-of-tour party in St. John's, Newfoundland.
Nudie and the Turks built a loyal fan base, released two CD's of original songs by Nudie and performed at festivals and showcases throughout North America. In 2012, after leaving bits and pieces of the band's van on the highways of Canada and the United States, Nudie struck out on his own. His first solo release 'Remember This' is recorded in Halifax at The Echo Chamber with Charles Austin engineering and Nudie producing. Telecasters and pedal steel abound on the Bakersfield biscuit 'You Try To Be Right'. Hammond organ pulses on the title track, while mariachi style horns adorn 'If A Heart Could Tell'.
Songs from 'Remember This' were licensed for television's "Saving Hope", and Nudie's talents as a performer and emcee were highlighted in "Nudie's House Of Rock", a live concert recorded and broadcast by CBC Radio in Atlantic Canada.