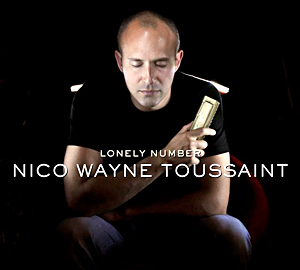 Deeply inspired by the music of Muddy Waters and James Cotton, Nico Wayne Toussaint started in 1992 in Minneapolis a musical quest wich has taken him all over the United States, on the way to meet his heroes, to learn from them and to play with them.
Nico has crossed paths with such legends as William Clarke, Franck Frost, Jerry Portnoy, Gary Primich. Over his different stays in Chicago, Minneapolis or Los Angeles, or while the past four years where he was living in Florida, he has played with a numerous of great artists including Luther Allison, Jimmy Johnson, James Cotton, Billy Branch, Vance Kelly, Rod Piazza, Eddy C Campbell, RJ Mischo and JP Soars.
Down the line, Nico has also toured or recorded with such blues personalities as pianist David Maxwell, guitarists Cash McCall, Neal Black or Mike Welch and guitarist-drummer Killer Ray Allison.
DixieFrog recording artist since 1998, N.W.T. has become on both national and international levels, a reference in the world of blues and harmonica. He has been able to generate, over nine albums under his name, a genuine and personal vocal style and stage presence.
With "Lonely Number", Nico Wayne Toussaint is bouncing back in a dazzling way towards a dynamic and groovy blues, at times even sticky with rock and r'n'b influences. Guy Davis, Rod Piazza, Monster Mike Welch, David Maxwell, JP Soars, Mr Boogie Woogie, Tommy Schneller invited themselves to the pagan celebration.