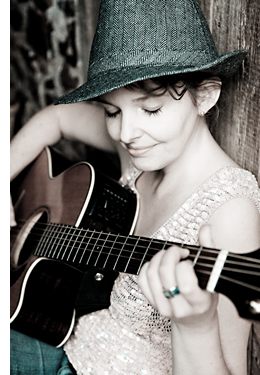 Devon born songwriter Nicky Swann is a performer with a passion. Her delivery is warm, soulful (sometimes gritty) but always spiritually tinged. She uses elements of folk, blues and country to tell her tales of love, hope and death. She lists Paul Weller, Carole King and Janis Joplin as her big three.
After splitting from her covers duo and long term guitarist in 2006, Nicky searched for a replacement, but was disappointed by those she auditioned. Determined to continue, she decided to take on the role of guitarist herself and quickly expanded her three chord repertoire and was gigging again after six months. She started to write new material and relaunched herself as a singer-songwriter.
Since then she hasn't looked back and her achievements to date include, recording with the top multi-instrumentalist Phil Beer (Show of Hands), winning the Artsbase singer-songwriter award, supporting many top UK artists including Clive Gregson, Roy Bailey and Megson, as well as American artists Corrine West and Brooks Williams. She has headlined the acoustic stage at Transition Festival, supported Show Of Hands at Chagstock, and is a regular performer at Dartmouth Music Festival. She has also performed for BBC Radio with the award winning folk singer and fiddle player Jackie Oates.
Her brand new album "Matches & Dispatches" has just been released. It is, simply put, a collection of songs about love and death. Eleven original tracks, a reworked cover of The Beatles classic "I Want To Hold Your Hand" (given new life away from its pop origins) and a new arrangement of the traditional Welsh poem "All Through the Night" ('Ar Hyd Y Nos'). The album was recorded at The Sawmills Studios in Cornwall and features performances from double bassist Rick Foot, cellist Bethany Porter, and pedal steel player Alan Cook.
She has achieved a growing, well respected reputation in such a short space of time, singing from the heart and captivating audiences with her emotionally honest delivery.