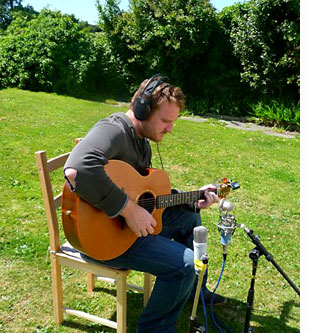 Nick Parker was 13 when he first picked up a guitar and tried to string together a few chords.
By 14 he had put down the guitar and picked up the mandolin. Not least of all because he wanted to be in his brother Ant's band and they needed a mandolin player.
Their first few gigs came and went, under the name 'The Mandolin Brothers', before they changed their name to 'Why?'.
They spent the next 10 years bouncing around on stages at hundreds of venues and festivals around the UK and Europe, reeling out their folk/rock/skiffle silliness (latterly known as friffle) to sweaty teens and twentysomethings.
In February 1998 Nick finally hung up his mandolin, chucked a new set of strings on his acoustic and started the far-more-sensible guitar band 'Tobermory'. After various false starts, a few flirtations with industry 'big' boys and the occasional mini tour on the continent, Tobermory played their last gig at the end of 2004.
Six years and hundreds of open mic nights later, Nick got fed up with being all serious. He reverted to his tongue-in-cheek, light-hearted beginnings, decided it was time to make a record, and pumped up the tyres on his tour bus.
Produced by former Tobermory band mate Luke Stidson, Nick's debut album 'The King of False Alarms' was recorded on location in a quaint little holiday cottage in Devon, England, during the exceedingly hot summer of 2010.