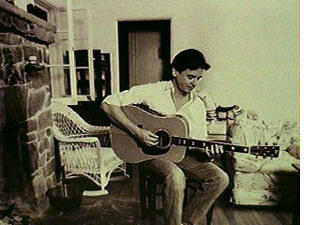 A native of Beverly Hills, Ned Doheny took his first musical strides as a songwriter. His tune "On & On" was recorded by Dave Mason & Mama Cass Elliott in 1971, while the Average White Band included "A Love Of Your Own", written with their lead vocalist Hamish Stuart, on their 1976 album, "Soul Searching". Another tune, "Whatcha Gonna Do For Me, written with Stuart, was covered by Chaka Kahn in 1981. The first artist signed by Asylum Records, Doheny released his eponymous titled debut album in 1973. His second album, "Hard Candy", released by Arista Records three years later, was produced by Steve Croper and featured such guests as Tower Of Power, Tom Scott, Jim Horn, Glenn Frey, Don Henley, Linda Ronstadt and John David Souther. Although it included Doheny's version of "A Love Of Your Own", the album failed to sell and Arista dropped his contract. Doheny's third album, "Prone", was limited to a Japan-only release in 1979.
Although he was unable to break through commercially in the United States, Ned Doheny later found a welcoming audience after turning his focus to Japan in the late '80s. The host of a popular radio show, 'Postcards From Hollywood', on FM Yokohama, from April 1990 until September 1993, Doheny gained speed upon releasing "Life After Romance", his first album in nearly a decade, in late 1988. An album of classic tunes performed on solo guitar, named after Doheny's radio show, released three years later, was followed by the equally impressive, "Love Like Ours", later that year, and "Between Two Worlds" in 1993.
Though often categorized as 'West Coast' because of his Los Angeles roots and association with other west coast artists, Doheny's music defies exact categorization, being variously described as pop, funk, jazz and AOR. He's been compared to Steely Dan and the Eagles among others.
In addition to original CD releases in Japan, both 'Hard Candy' and 'Prone' have been reissued as LP-replica CDs. And all 3 albums, are currently available in digital download online.
Doheny's first album in 15 years, 'The Darkness Beyond The Fire', will be released in 2009.